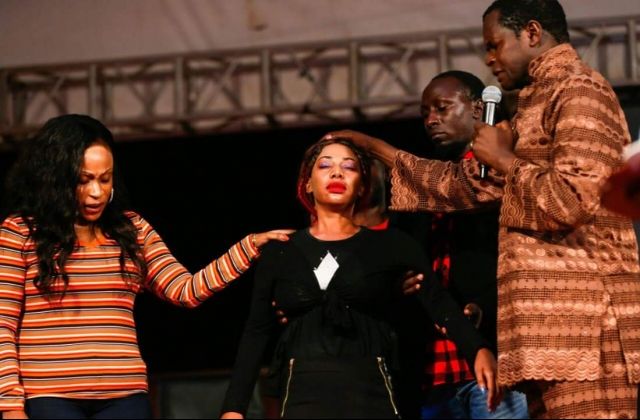 City socialite cum daughter of God, socialite Shanita Namuyimba aka Bad Black aka Snail Baby is tired of earthly desires and has decided to turn to God.
Bad Black is transitioning to becoming a true born again, according to the recent events. Bad black has committed her life to Jesus Christ.
Yesterday, we reported how Bad Black dropped in tears as she confessed before Church congregation at Pastor Kayanja's church, Miracle Centre Rubaga.
Read More: Bad Black Drops Down In Tears During A Church Confession Period Over Sex!
If you think there's MORE to Bad Black's religious conversion than just spirituality, you may be right. But for now she claims she will succeed in the new faith in Jesus' name
I hv made the earth, and created man upon it: I, even my hands ,have stretched out the heavens, and all their host hv I commanded, Ihv raised u up chanitah n righteousness, I will direct all ur ways :u shall build ma city, & u shall let go ma captives, not 4 price ..I hv sworn by myself da word s gone out o ma mouth n righteousness and shall not return....U WILL SUCCEED, she says
We will keep you posted.