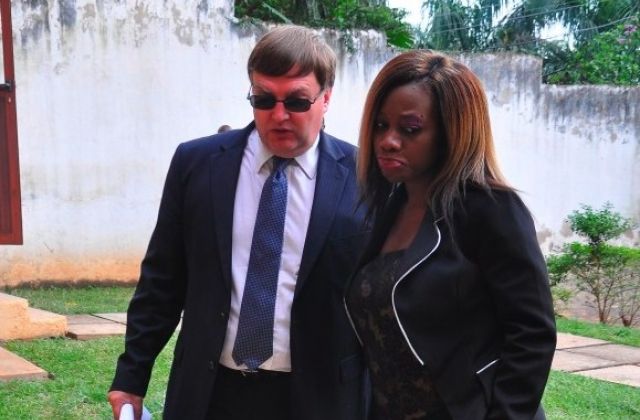 Breaking up is hard to do, even if you're rich and famous. See the list of celebrities that broke up because of money.
BAD BLACK
Since 2011, life has never been the same for once popular socialite Shanita Namuyimba aka Bad Black. She used to throw money in bars, pay off her lovers for her offside sex and organised open bars but all this, is history. Today Bad Black is bedridden with bills from Umeme and Water. Ever since her break up with financier David Greenhalgh, her lifestyle drastically changed. She has failed to get back on her feet.
LEILA KAYONDO
When Leila was still dating SK Mbuga, she enjoyed all the good things any girl would enjoy from her ideal man. Later reports came out that Mbuga wanted to have kids but Leila was not ready since she wanted to focus on her career. As if that wasn't enough, she started looking for other suitors. All that angered Mbuga and he terminated the relationship. She lost all the trips, expensive cars and expensive video shoots. Of late Leila is struggling with life and Mbuga moved on and married another woman who was ready to give him to his demands.
JUDITH HEARD
Judith tasted all the good things when she was in her twenties. By then, she seemed to have attained it all. She had the beauty, a mansion of a home and a wealthy rich man. She rose so fast to stardom that she never thought of what poverty or hardships in life meant. She became the number one party animal and lived like she was on the moon. She was a bigger spender and had about a fleet of 6 cars. When she started developing misunderstandings with her white husband, he close and stopped financing her and the latest is that she woke up from dreams and she is busy hassling for her own money. But all the expensive parties are gone
SYLVIA OWORI
She was happy when she was still dating her long-time lover Pier Munk. The relationship developed cracks when Sylvia gave birth to a dark baby boy. To make matters worse, rumours came out that the baby was for former Mayor Sebagalla. Munk was hurt and cut off all communications. The businesses she was running with Munk all closed. She stopped holding fashion shows. She lost the Miss Uganda franchise, The African Woman magazine crumbed and as well zipper models. Sylvia up to now is struggling with life.
MP MARIAM NALUBEGA
The former Butambala woman Member of Parliament used to cause commotion when she was still in August House. She was enjoying a good life because of her monthly pay of shs 20m. She was accused by a married woman Sharon Katerega of snatching her husband Thomas Katerega. Sharon accused Mariam splitting her family. Currently no one knows where Mariam is.
MEDDIE SENTOGO
He once drove customised expensive cars around town. The Benzs, Tundra, BMWs but not more. Meddie a former barber had his time. He used girls. Everything would reach him at his own time and would pay people in dollars. He started living in mansions and owned some of them. He went to prison over money embezzlement and lost most of the property. As of now, he is struggling just to survive.