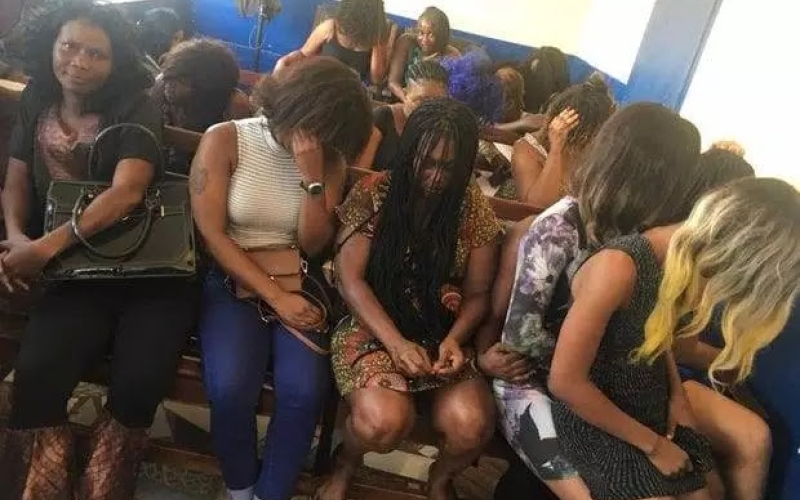 Police in Mukono are holding six sex workers and a lodge manager for punching a client to death over 1000 shillings.
The suspects (names withheld) are currently in police custody at Wantoni, Mukono Municipality following the incident that happened on September 19 at Recess Bar and lodges.
It is alleged that on that fateful night, the deceased approached eleven sex workers standing adjacent to the bar lodge and asked to have night duty served to him.
After long minutes of negotiating, one of them settled for 5000 shillings from the deceased for her services, to which he agreed.
The Ggulu Ward Chairperson, Muhammad Wasswa Takwana says after the act, the deceased paid a five thousand shillings note and demanded the balance of 1,000 Shillings which the sex worker declined to return.
He later decided to confiscate the girl's phone prompting her to sound an alarm for help. Her colleagues immediately pounced on the man, killing him on spot.
By the time police arrived at the scene, the man had passed on.
The Kampala Metropolitan Police Spokesperson, Patrick Onyango says police have so far conducted the screening exercise of the arrested suspects with six still in custody.
He however declined to reveal the names of suspects who are still behind the bars on grounds of not interfering with the investigations.
He also revealed that currently, they are waiting to retrieve the postmortem report from Mulago before sending the case file to the State Attorney for perusal and legal advice.
"We have recorded statements from relevant witnesses and screened the twelve suspects that we had initially arrested and remained with only six in custody and we have enough evidence pinning them on this murder case,"

— Onyango said.