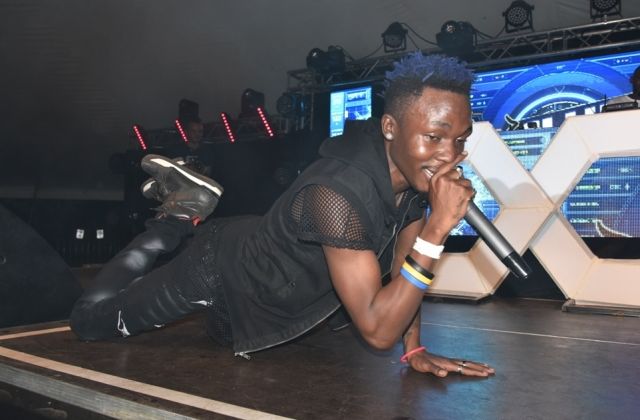 Events are fast becoming part of our Ugandan social norm, from festivals, bashes to over the top wedding kasikis. The one constant however is entertainment. No matter the party size, you need to keep the crowd happy. The young and trendy generation may love the vintage artists (read Maddox) but when the lights get dimmed and the beer makes rounds, then out with the old and in with the new.
#7 Natty Nathan
To set the ball rolling, at 5 is Natty Nathan. Best known for his ratchet performances and signature blue hair, like his name, he can get pretty natty on that stage. He will have everyone roused with the excitement of what he can do with three ladies on that platform. If you don't hold onto your lady, the next place you might see her is back stage…hopefully just getting his autograph.
#6 Deejay Dash
At 4 is Deejay Dash. He spins the place into a disco inferno when he gets onto those turn tables. With his party radar on point, he can tell when to turn it up and when to keep it just there.
#5 Tabu Flo
As far as the dancing goes, Tabu Flo Dance Crew whines itself into spot number 3. Indeed a refreshing form or artists to look at. They get the party hyped up with their Afro-hip hop dance performances. Tabu Flo use dance as a form of expression which makes then very relatable to the young generation.
#4 Sheebah Karungi
Taking the entertainment scene by storm is Sheebah. Another artist we just can't get enough off. She Headlines almost every event around town and is currently rocking it on Coke Studio Africa. Her fusion of dancehall and sexy make her an obsession for most, generally termed sheebaholics.
#3 Vampino
From barbed to razer, electricity, clothing and now recently…smart wire. The innuendo in this song is not lost on many, and in the same spirit is the most enjoyed performance from Vampos. When he steps on stage, his smart wire pack right behind him doing their signature dance, the crowd goes mental. Ladies screaming from all corners while the dudes mimic his every step.
#2 Cindy Sanyu
When she quit Blu3, we all thought she couldn't make it solo. However, she surprised us with "Ayokyayokya" hit and up to now, she hasn't looked back. The singer can sing in different genres like RnB, dancehall, reggae and afro zouk making her one of the most talented singers we have right now. She is the only female artist that steps on stage and you feel the value of your money has been put in the right place. Super stage performer
#1 Gravity Omutujju
Gravity is the best music performers in this country. He doesn't only leave the crowd in total excitement but uncontrollably feeling dizzy.
Gals Betting: Get 10% Refund on All your Losses
Click Here