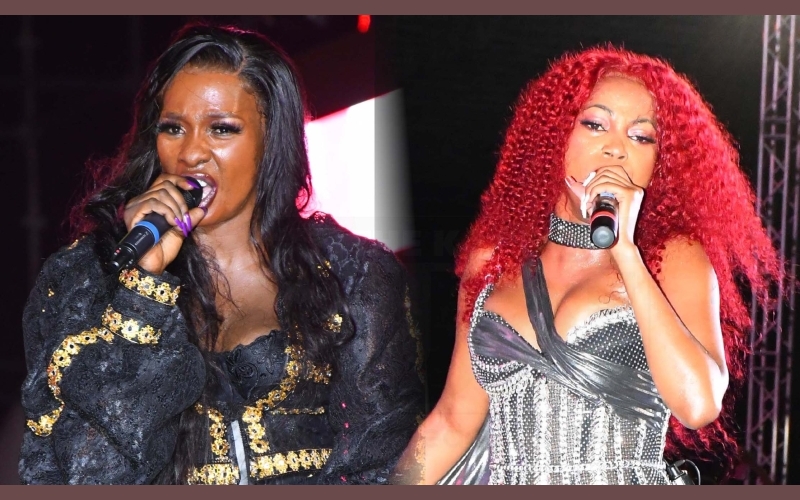 Sheebah has expressed her gratitude to Cindy for participating in the music battle she organized.
Last Friday, Cindy and Sheebah engaged in a highly talked-about music battle that continues to be a hot topic in town. Supporters of Sheebah, known as Sheebaholics, insist they emerged victorious, while Cindy's fans, referred to as Cindycates, make their own claims of victory.
However, in a surprising turn of events, Sheebah took to social media to extend her appreciation to Cindy for her presence at the event, which Sheebah had a significant role in organizing.
"I want to extend special thanks to Victoria University Kampala, Uganda, and my brother Dr. Muganga for wholeheartedly embracing my idea for this battle. Many attempted, but the concept never materialized until now, reminding us that God's timing is always perfect.

I also wish to express my gratitude to Cindy Sanyu for accepting the challenge, which has reshaped the Ugandan music industry. For the first time in Ugandan event history, two local female artists drew the largest crowd ever. As the primary event organizer and founder of the Yolo Festival, I will forever cherish this moment, as it marks my first but certainly not my last event. Stay tuned for details on the next Yolo Festival.

To our incredible fans and all of Uganda, you made this historic event possible! We love and appreciate you ❤️.

Kadanke and your team, thank you for transforming Kololo into a spectacle reminiscent of Vegas with your remarkable stage, sound, lights, and screens. We were thrilled with the setup.

To my beloved Sheebaholics, I feel genuinely and deeply loved. Thank you 🌹🙏🏾🙏🏾🙏🏾.

To my team, including Bukenya Edriisa, Cathy Patra, Mariah Benitah, Mutebi Ronnie, Mulindwa, Jesse Trigger, Shafiq Kamara, and Makeup Studio, words cannot adequately express my gratitude for your unwavering support. The sleepless nights, pressure, and unconventional work hours have paid off. Here's to more victories 🙏🏾🥂," she posted.
Download the Howwe Music App