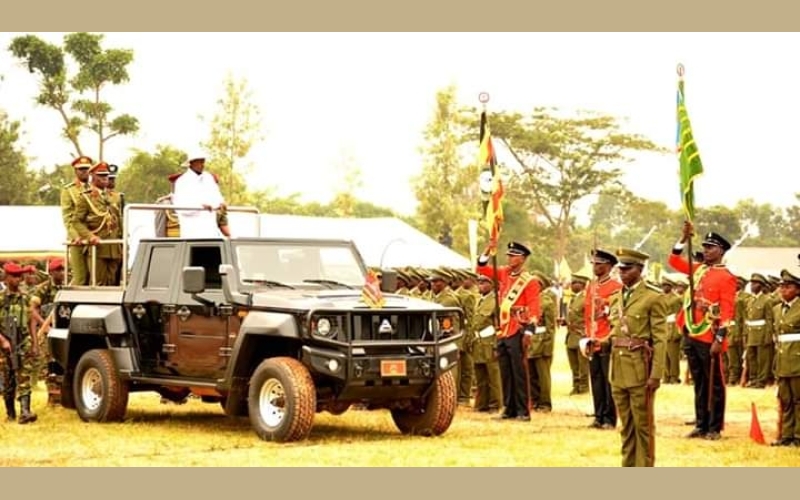 District service commissions across the country have been blasted for allegedly selling government jobs to Ugandans.
The allegation was made by President Yoweri Kaguta Museveni while speaking at the 37th NRM/NRA Victory Day celebrations at Kakeeka grounds in Kakumiro on Thursday.
Museveni said several members of the District service commissions across the country are selling local government jobs and others asking for sexual favors in exchange for jobs.
He has further warned that the bad practice by these District service Commissions must stop immediately. The president asked Ugandans to provide all evidence they have against such District service commission members selling the jobs so that quick and appropriate action is taken.
"I have been reliably informed that district service commissions across the country are selling government jobs and girls being exploited sexually as bribes for jobs. This must stop immediately. Why should Ugandans pay for jobs in their own country? Can we investigate and find out who these people are? I call upon Ugandans to come out with evidence so that the culprits are apprehended and charged accordingly," said a bitter Museveni.
The President has directed the Police and District Internal Security Officers - DISOs to take lead in the investigations and arrest of all those being accused and charge them accordingly.
Museveni has also warned politicians and leaders across the country against sectarianism saying politics based on sectarianism is criminal and will not be tolerated at all. He says that those promoting sectarianism must be arrested and prosecuted since it an electoral offense and criminal in Uganda's law.
According to Museveni, what the citizens want most is appropriate service delivery rather than divisionism along tribal and religious differences.
President Museveni also says Ugandans should treat as satanic any person promoting sectarianism which he described as a poisonous ideology because it sets up communities against each other and kills cooperation. He added that leaders who promote sectarianism based on identity, tribe, and religion are enemies who should be shunned by all.
The President re-echoed his warning against environmental degradation especially encroaching on forests, wetlands and steep mountain slopes saying the practice must immediately stop since the vice is a big threat to the country.
He tasked leaders across the country to sensitize Ugandans to voluntarily vacate wetlands, river banks and desist from cutting down forests.
The President has also vowed to take tough action against school proprietors who have unnecessarily increased school fees both in private and public institutions of learning saying it is uncalled for. He says his government will expeditiously reign over errant education institutions increasing school fees for their personal gains.
He says he will soon announce his position on all school proprietors both in private and public institutions who have unnecessarily increased school fees that have compelled some students in secondary level of education drop out of school.
He says because of the frequent school fees increment, 64% of students in secondary school have been forced to drop out of school just because their parents can't afford to pay. He says despite several directives to the school proprietors against increasing school fees, some head teachers have adamantly disregarded government position warning soon he is going to wage a serious war against them.
He says government must provide free education in primary, secondary and tertiary institutions since many families cannot yet afford educating children.
Museveni further explained that Uganda has already entered the middle-income status but there is still need for three more years to be fully recognized with a GDP per capita above $1,039 saying all these are low targets which Uganda will easily surpass.
According to the President, Uganda's economy has grown to $48billion by the end of June 2023, up from $1.5billion in 1986 when he assumed power saying this is a great achievement in the NRM's history.
He says the government is going to add value to more and more of the country's coffee and the other raw materials like maize, minerals and cotton among others that will soon boost the economy to in a short period of time.
He further challenged the people of Bunyoro to use the critical oil roads in the region to promote trade and commerce to create wealth and boost household incomes. He says the people in the sub region should not sit and see the tarmac roads without making any tangible benefits from the road infrastructure.
At the same function, the President also commissioned the 93km Kakumiro-Nalweyo-Bulamagi- Igayaza-Buhimba Road and the Kakumiro NRM house.
The 37th NRA/NRM celebrations were held under the Theme: "Our resolute effort to transform Uganda is a promise we shall fulfill" .
The celebrations mark the overthrow of the previous government by the National Resistance Movement on 26th January 1986.
During the celebrations, 45 people received various medals in honor of their contribution towards the development, peace and the liberation of Uganda.