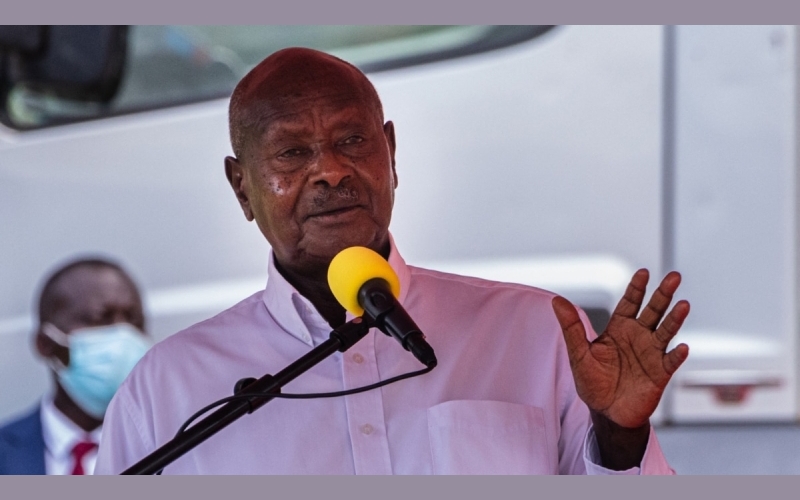 President Yoweri Kaguta Museveni has re-echoed his message in the fight against land fragmentation urging leaders to sensitize the people on the dangers of dividing land into small pieces.
He says that the people of the region are failing to protect the wealth brought in by the NRM government by sharing the land amongst themselves which is pushing them back into poverty.
Museveni was on Wednesday officiating at the International Women's day at Sanga Playground in Sanga Town Council in Kiruhura District under the theme; Equal Opportunities in Education, Science and Technology.
He appealed to the people in the cattle corridor to stop fragmenting wealth when the owner dies but only start family companies, and own and divide shares but not physical property.
He urged the leaders especially Members of Parliament to sensitize the people against fragmenting physical property noting that the leaders have failed in their responsibility of foreseeing and telling their people dangers around land fragmentation.
The President said that one can gain wealth through dairy farming noting that Milk collection in the Ankole region has improved, with players in the market rising from about 15 operators in 1986 to a total of 647 fully equipped milk collecting centres.
He says that the milk produced in Uganda has gone from 200 million litres per year to now 7.2 billion litres per year.
The President said avoiding fragmenting land would help families get out of poverty through commercial farming, manufacturing, services and other sectors of ICT noting that it would be easy to address challenges including those of women.
At the same function Museveni launched a new world bank grant amounting to 200 million dollars about 800 Billion shillings that will be given to women's groups that seek to add more funding to their entrepreneur business under the Uganda Women Entrepreneurship Programme (UWEP).
The grant will be utilized under the "Generating Growth Opportunities and Productivity for Women Enterprises (GROW) Project".
Betty Amongi Akena, the Minister of Gender Labour and Social Development said that the Grow grant will increase the economic empowerment of women for the next five years. Project.
Meanwhile, the women leaders asked President Museveni to assent to the Anti-Homosexuality Bill, 2023 once it is passed by Parliament and sent to him.
The National Chairperson Women's Council Hajjat Faridah Kibowa said that the vice is picking so fast amongst school-going children, the youth and the low-earning people.