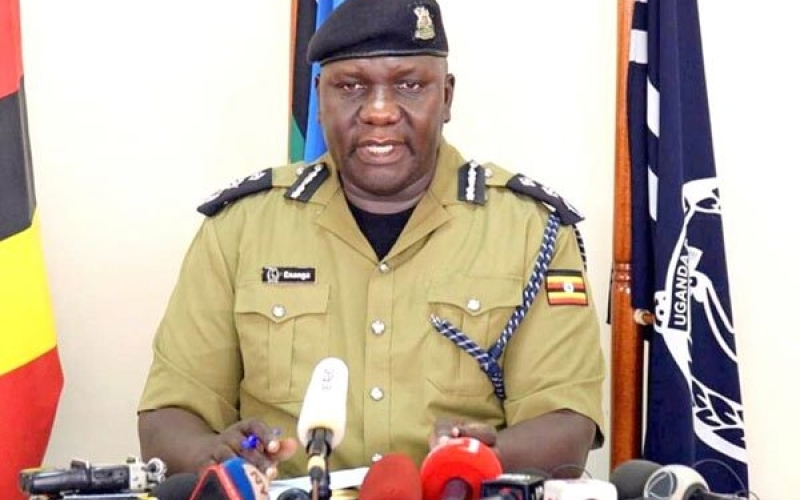 Detectives in Kiira and Jinja City territorial police are holding six suspects believed to be part of a criminal sexual network that grooms young boys into acts of sodomy and recording pornographic materials.
According to Police Spokesperson Fred Enanga, the suspects as Kalungi Fabian, 23, a Peer educator and resident of Namungoma cell, Kasubi division, in Kampala, Kiiza Brian alias Chosen Muwera, a peer educator from Wabulenga "A" cell in Jinja City Northern Division, Menya Sadat alias Sheebah, 26, a peer educator from Mbiko in Buikwe district, Ibanda Geoffrey, 29, the Director of Peace and comfort and resident of Mpumudde cell in Jinja City, Hamza Katumba, a student counselor from Nansana cell in Wakiso district and Shafic Wasajja, 24, a peer educator at Alive Medical Services in Namungona, and resident of Kulekana cell in Makindye division, Kampala.
Enanga says that the suspects were arrested from Mpumudde zone in Jinja City over the weekend.
"Upon search at the home of Ibanda Geoffrey and Kiiza Brian, Tangible exhibits were recovered which included; 192 Sackets of Lubricants, shirts, and stags with LGBTQ Logos, the metallic banner of peace and comfort with the LGBTQ flag," he said in a statement issued on Monday evening.
Adding that, "It was established that members of the criminal sex gang recorded sex videos and also streamed live sessions, which they submitted to LGBTQ donors for funding of their activities. The 6 suspects were examined and some were found to be HIV positive." He said that more medical tests are being carried out while efforts are in place to trace their victims, who are silent and in hiding.
Enanga says that the police have continued receiving concerns about several criminal sexual networks that are actively involved in the sex trafficking of minors and teenage boys, who are recruited into acts of sodomy and other unnatural practices in Busoga region, Wakiso, and Kampala areas.
"The major grooming methods are the boyfriend model, where victims are introduced to a boy or man friend, and groomed. As well as the so-called party model, where the victims are targeted by groups of men, who lure them into gatherings, sex parties with offers of money, and gifts as well as drinks and drugs," he said.
He explains that the sex trafficking of male juveniles is heinous and a disturbing crime, which calls for the concerted effort of every Ugandan to stem the vice. "Our inquiries are being extended beyond the 6 suspects, with a wider scope of safeguarding the public and any other victims of child sexual exploitation," the statement reads.
Police have encouraged members of the public to volunteer information regarding residential locations in their neighborhoods, where acts of sexual trafficking and other unusual activities are taking place through the Police National Operations Command Centre on telephone contacts 0707-600773, 0776999136 or toll-free number 0800199699.
CASINO, Lucky Winner
Earn Money Now