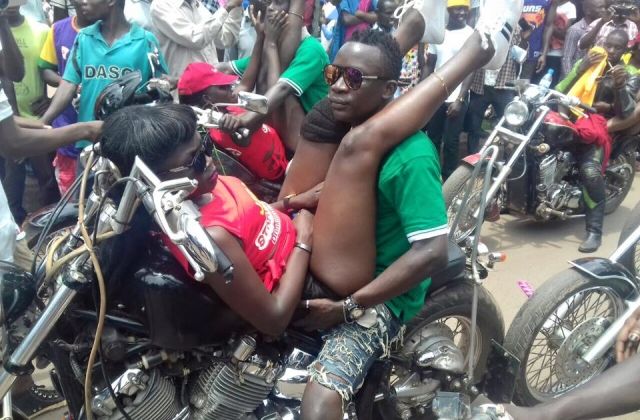 Excited revelers have descended on the Kampala city centre for the annual carnival, a celebration that draws multitudes to the capital to celebrate culture, innovation, unity and social life.
Dubbed the biggest street party in East-Afrika, the carnival is featuring musical acts including Bobi Wine, Bebe Cool, Chameleon, Navio Kigozi, Sheba and Irene Ntale among others. Companies, organizations and small businesses joined the festivities adding a corporate feel to the streets that are crowded with colorful sights and vibrant sounds.
The carnival is organized by Kampala Capital City Authority mainly to depict the image of the city as a happy, cultural and warm place to be. This year's carnival introduced a festival rally, cycling and a vintage car show. Places of worship have also been set up for faithful's who may need to worship while attending the festival.
Here are some of the moments you could have missed.
1. Rolex ingredient and Rolex makers were in plenty
2. Big Men acting like babies to advertise their products
3. Mchomo of all types....
4. The 'Mama Susans' of this world selling their food presented
5.Circus Circus games for kids were available
6 Family outings and pop corn feasting
7. Chicken Roasting and others...
8. Cultural dance stages were available and absolutely free
9. Apparently Mickey mouse's 'Brother' made a surprise visit
10. Street Basket ball game tournments
11. Street football and free-style moves were on display
12. Police and security agencies were in every corner
13. Sexy girls queued to ride camels and horses
14. Weird people doing weird things were also there
15. Halloween was celebrated also...
16. Big women sitting and sleeping in the road...just for fun
17. Vintage cars were on display for photography
18.The KCCA ED Dr Jennifer Musisi gets a feel of the Kampala City Festival from an ariel view
19. Different stages were packed for revellers to watch their favourite artists
20. And lastly, girls of different shapes and sizes....