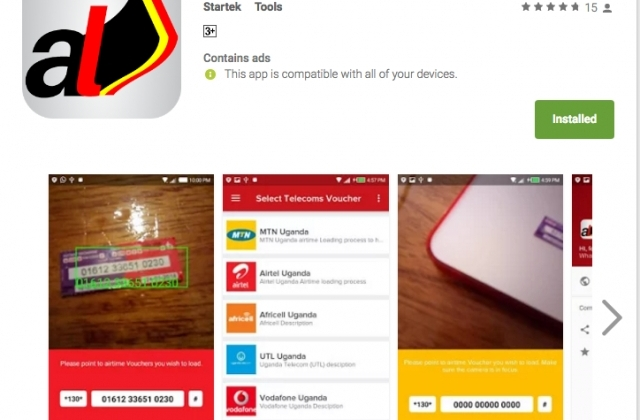 Download it here https://play.google.com/store/apps/details?id=com.startek.airtimeloaderug
Simple About the App
Airtime Loader is simple and light 3.2MBs to be exact.
It saves you the struggle to manually type the voucher code when recharging your airtime balance.
It's built to support all mobile network operators in Ugandan except K2 Telecom. K2 will probably be added in the next update.
Supported Networks: MTN, AIRTEL, VODAFONE, AFRICELL, UTL, SMART TELECOM
You can choose to share your voucher code with friends over WhatsApp or your preferred social network. Why Not? Sharing is caring!
It has Great Review that will entice you to Install it
How to use airtime loader
Open the app after downloading here
1- Select the network you're trying to recharge
2- Focus the camera view onto the scratched airtime
App will automatically scan the voucher pin for you
3- Tap on the tick button to load
Screenshots
Homepage made to simple for saving your time... Here you can select the network you're trying to Recharge airtime for.
2. After just point the camera view to the scratcheded airtime. The App will automatically read the airtime and just tap that tick below and you are done.... Ahh Simple
Download it here https://play.google.com/store/apps/details?id=com.startek.airtimeloaderug
Download the Howwe Music App