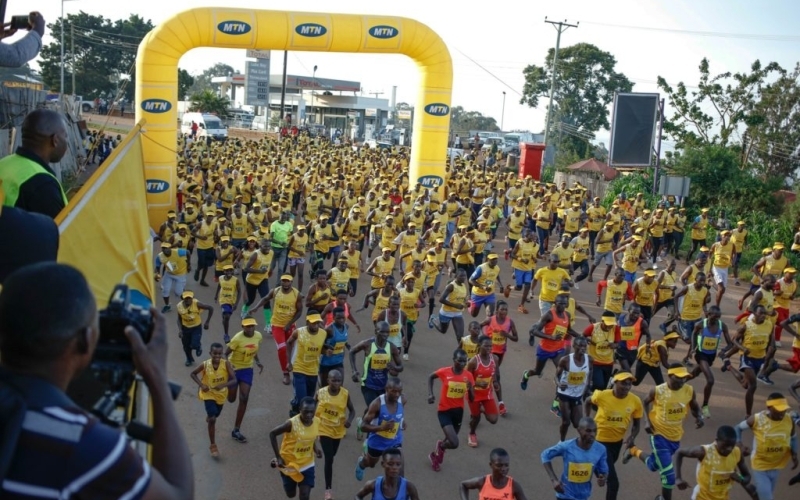 The MTN Kampala Marathon, an annual Uganda Athletics Federation (UAF) Road running event generously sponsored through the years by MTN together with its partners, has established itself as a pivotal fixture on Uganda's Athletics scene, achieving remarkable growth and making significant contributions to both sports and community welfare since its inaugural edition in 2004.
With its humble beginnings featuring 1,500 participants, the MTN Kampala Marathon has evolved into a grand spectacle attracting over 30,000 enthusiastic runners each year. This enduring success is the result of a fruitful partnership between MTN and the Uganda Athletics Federation (UAF), the national governing body for Athletics in the country. Over the years, this collaboration has not only fueled the growth of Athletics in Uganda but has also resulted in an impressive medal tally, outstripping all other sports disciplines combined. We recognize with deep appreciation, the sincerest admiration of the MTN Kampala Marathon, that has birthed the multitude of marathons and road runs in our country. We are immensely grateful to witness how this event has ignited the healthy habit of running for fitness in Uganda.
The marathon's impact extends far beyond the finish line, significantly elevating the quality of life for countless families and communities across Uganda. Beyond the realm of sports, the MTN Kampala Marathon has demonstrated a profound commitment to philanthropy. To date, it has raised over Ush. 5 billion, which has been thoughtfully invested in diverse community causes, including initiatives focused on improving sanitation, access to clean water and enhancing maternal health.
As we embark on our mission to set new standards of excellence, we are taking a step back to realign our vision and innovate around how to distinguish ourselves and become more impactful for the years to come. We will therefore not be having the MTN Kampala Marathon this year but will soon announce the next transformative chapter in this remarkable journey that we have all come to cherish. MTN Uganda remains steadfast in its commitment to championing the passions of Ugandans, as the leading sponsor of various initiatives that enrich the lives of our people.
We extend our heartfelt gratitude to all Ugandans and our dedicated partners who have steadfastly supported the Marathon throughout the years. We look forward to crafting more unforgettable memories in the future. Together, we remain an unstoppable force, empowering Ugandans and enriching their lives in every way possible.
Download the Howwe Music App