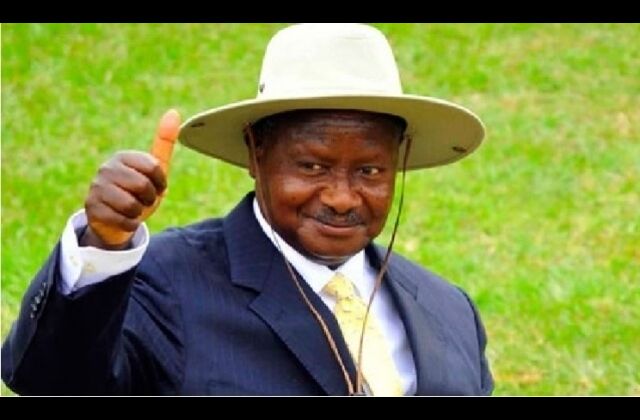 Former Inspector General of Police Kale Kayihura is not the brain behind the crime preventers' initiative, President Yoweri Museveni has revealed.

"Anyone with such a perception, should get it out of his head" Museveni said. This comes at a time when the country was skeptical about the fate of crime preventers who were initially seen as a Kayihura project. Gen. Kayihura was recently sacked from office of IGP, and replaced with his former Deputy IGP Martin Okoth-Ochola.

While speaking to over 3,000 crime preventers at MTN Arena Lugogo today, Museveni said General Kayihura was just a good cadre who implemented the project that belonged to the commander in chief.

"Kale Kayihura was an active cadre who implemented that aspect of our strategy actively and I congratulate him for responding" the president explained.

He further said that the crime preventers will be under the Uganda Peoples Defence Forces (UPDF) henceforth, not the Uganda police force as has been since inception.
He also ordered the new crime preventer team to meet with the Chief of Defence Forces (CDF), Gen. David Muhoozi. The President told crime preventers that he has already talked to the CDF that their scheme deserves to be under the army.

"Why I left you with the police is because you were dealing with the crime but in the end, you belong to the army… I now regard you as a reserve army for UPDF. My idea is to have a small army which is equipped but with a big reserve," Museveni said, attracting more applause.

Museveni told crime preventers to be exemplary actors in poverty eradication in their homes and communities. "Don't be the one in a bar with swollen cheeks like a ripe banana, let your light shine," he said.

He pledged to put Uganda Shillings 1.3 billion in crime preventers SACCO.

The National Crime Preventers Forum (NCPF) describes itself as an umbrella body under which all crime preventers are organized and coordinated. It was founded in 2013 to promote community policing in Uganda in partnership with Uganda Police Force.

They numbered to 12 million, as mentioned by the President today.