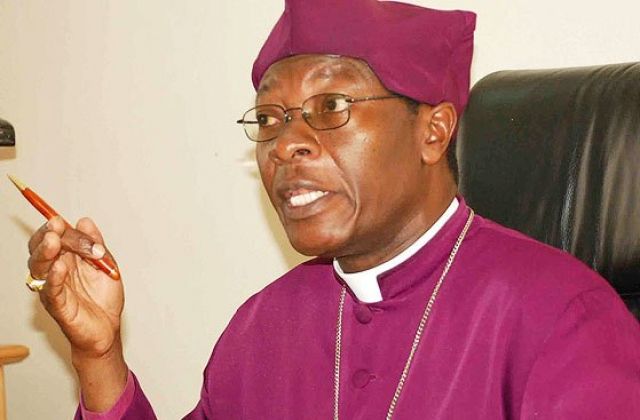 It is one thing to plan an attack, and another to be caught in the act, especially if you are stupid enough to carry it out in public. This is what Herbert Solomon Kaddu, the man who was arrested on Sunday while attempting to harm Bishop Wilberforce Kityo Luwalira must fee. He was on Wednesday remanded to Luzira Prisons.
34 year old Kaddu, left the country in shock, with many of us thinking it was a fools' day prank planned by some TV station which was relaying the Easter Sunday service live. But we were wrong.
Kaddu appeared at Lubaga Magistrates Court on Wednesday. He was then charged with two counts of threatening violence contrary to Section 81 of the Penal Code Act and one count of disturbing a religious assembly contrary to Section 119 of the Penal Code.
Also, Grade One Magistrate Julius Mwesigye remanded Kaddu until April 23, 2018 as investigations into his three charges continue.
His charges stem from an incident inside St Paul Cathedral, Namirembe on Easter Sunday, when he charged towards Bishop Luwalira who was leading the morning Service. Kaddu jumped like a monkey out of nowhere and attempted Jacki Chan like moves, but like any other amateur, he couldn't go past barriers that separate the congregation from the altar. He was carried away like a sinner he is.
Led by Roseline Kipolwa, Prosecution told court that Kaddu raced towards the Altar with a stick and a bark cloth before he fell down, and was grabbed by people who were attending Church Service.
He has since been transferred from Namirembe Police Post to Old Kampala Police Station from where he was produced in court on Wednesday.
According to the Uganda Police Force, Kaddu was subjected to mental examination at May Fair Clinic in Wandegeya while he was still detained at Old Kampala Police Station and results indicated that he is mentally sane. His relatives have, however, rejected the results saying that he is mentally ill.
Luke Owoyesigyire, Kampala Metropolitan Police Spokesperson says Kaddu will be re-examined by Police surgeons to establish his state of mind.
During interrogation, Kaddu according to Owoyesigire, told Police that he raced towards the altar seeking for the help from Bishop Luwalira to burn the fetishes he had.