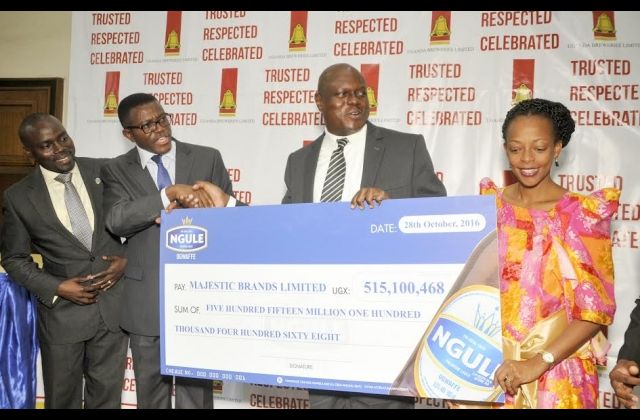 Uganda's leading brewery, Uganda Breweries Limited has this morning handed over a heavy cheque of 515 Million Shillings to Buganda Kingdom.
The money is from royalties accrued in the previous financial year.
The event held at Bulange Mengo saw the UBL MD Mark Ocitti hand over the cheque to the Kingdom Prime Minister, Owek. Charles Peter Mayiga in the presence of members of the Buganda Lukiiko and Muluka chiefs.
During the ceremony, Mr. Ocitti said the partnership which started in January this year was a very fruitful one, revealing that Ngule had been an overwhelming success since its launch.
"Since introduction to market in January, Ngule has received an overwhelming positive reception from the market. It is a great quality and delicious beer that consuers have grown to love. We are pleased today to be handing over what is owed to the Kabaka from this partnership as promised" said Mr. Ocitti.
Speaking at the same ceremony, Owek. Charles Peter Mayiga hailed Ngule as a wealth-generating innovation by the kingdom.
"This partnership came into effect with the aim of stimulating income levels of both the people and the kingdom and we are glad that Ngule has achieved this for us."
Ngule is a beer made from local ingredients; cassava and sorghum, which are exclusively sourced from the kingdom. Sold at a recommended retail price of 2,000 Shillings, Ngule is one of the most affordable beers on Market.