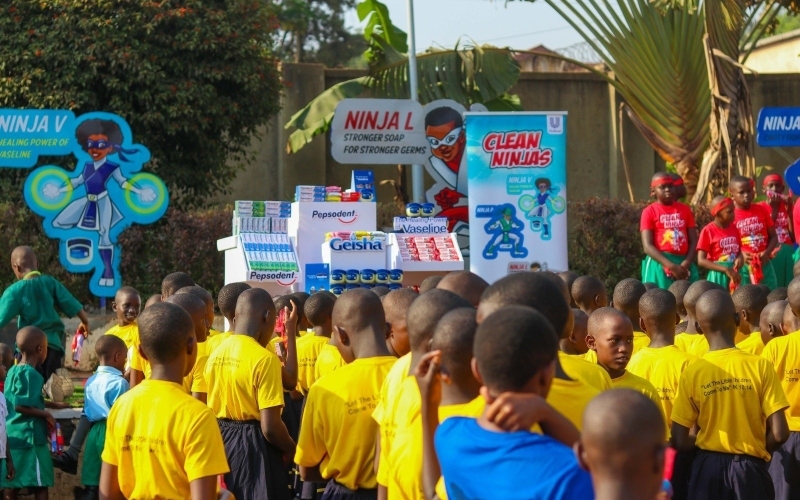 Unilever in Uganda has today made a commitment to reach 300,000 school-going children in the year through their Clean Ninjas project. The initiative which entails training primary school pupils on basic hygiene practices such as handwashing with soap to prevent disease causing germs, oral hygiene to avoid cavities & body hygiene as well as skin care has been running for the last three years and has to date reached over 80,000 children.
Officiating the 2023 Clean Ninja's program, Unilever Africa president – Jaime Aguilera emphasized on the alienable need to have good personal hygiene as the basic foundation to a healthier life.
"This program is in line with Unilever's belief that sustainable growth is best delivered through brands with purpose that offer greater benefit & value to consumers beyond their functional appeal." Said Aguilera. The launch for the program this year was at St. Peter's Primary School, Nsambya.
"The major goal of the Clean Ninjas project is to make basic hygiene a common place amongst growing children. We are targeting to reach 130 schools in Kampala and empower over 300,000 pupils by end of 2024." Said Mrs. Joanita Menya Mukasa – MD Unilever Uganda.
"With this initiative we intend to meaningfully contribute in reducing pupils' absenteeism from school caused by hygiene related illnesses." Added Mrs. Menya.
To ensure sustainability of the initiative, Unilever will leave behind training manuals for the school library, hygiene communication signage, handwash centers, product samples to encourage handwashing with soap and other learning aides as deemed necessary.
Unilever is committed to creating a Brighter Future for all Ugandans by availing Purpose-driven Brands.