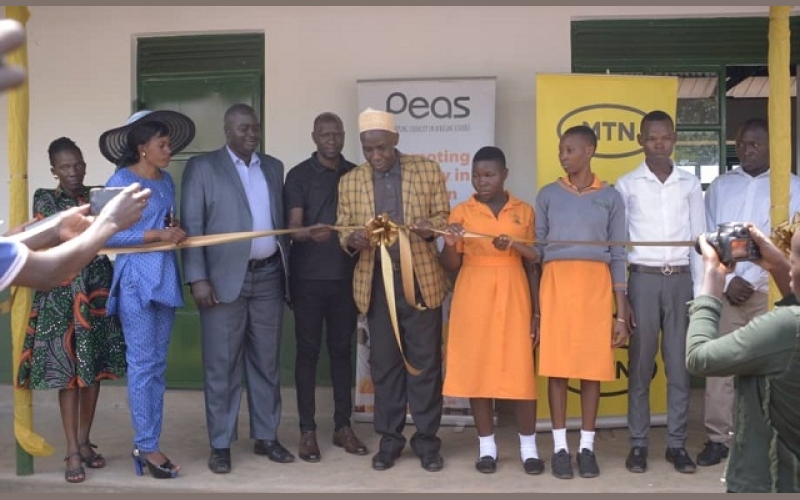 Town View PEAS High School in Bugiri District has today received a major boost of infrastructure and water support worth UGX 202 million courtesy of MTN Foundation.
The school located in Ndifakulya Parish with a catchment of 15 primary schools in Bugiri Municipality, provides access to low-cost quality secondary education to 148 learners.
The project was funded by MTN Foundation and implemented through Promoting Equality in African Schools (PEAS), a non-government organisation dedicated to improving access to quality education.
Allan Njagala, the head commercial East at MTN Uganda said the new 3-classroom block fully equipped with furniture is meant to provide additional space for new learners.
"We at MTN Uganda believe that every child deserves access to quality secondary education to acquire the much-needed knowledge and shape their future careers but this can only happen with the presence of adequate infrastructure," he said.
"With this additional three-classroom block and a rainwater harvesting facility, we hope that this school will open its gates to 180 new learners, expanding access to secondary education for the marginalized and increasing water supply to the school away from the well that is shared with the community."
Njagala said MTN is committed to ensuring that no child is left behind to access secondary education irrespective of social-economic status because that is how the country will be transformed.
This comes at a time the number of students transitioning from primary to secondary schools is on the rise following the introduction of Universal Secondary Education more than a decade ago.
Newly built classroom block at Town View PEAS high School in Bugiri District. The facility will accommodate at least 180 new students.
Hajji Abdul Ssebyala, the Resident District Commissioner in Bugiri District, who doubled as the chief guest during the handover ceremony, commended MTN's contribution to supporting the government's efforts towards boosting learners' access to secondary education.
"We are looking forward to the future dividends of this infrastructure for our learners in terms of ending poverty and boosting shared prosperity, peace and stability," he said.
MTN Uganda in partnership with PEAS has implemented 15 infrastructural projects in various educational institutions countrywide. These include; classroom blocks and sanitary facilities at Noble PEAS High School and Aspire PEAS School in Ibanda District in the western region, classroom blocks at Samling Nama PEAS School Mpigi and Onwards and Upwards Secondary School in Wakiso in the central region, and classroom blocks at Kun ci Gen High School in Amuru and Girls Dormitory at Loreng Primary School in Napiripirit in the northern region, among others.
Similarly, the telecom company has supported more than 42 ICT labs in different educational institutions including six in technical institutes such as Amelo Technical Institute located in Adjuman District, St. Simon Peter's Vocational Training Centre in Hoima District, and St. Daniel Comboni Polytechnic in Moroto District.
Download the Howwe Music App