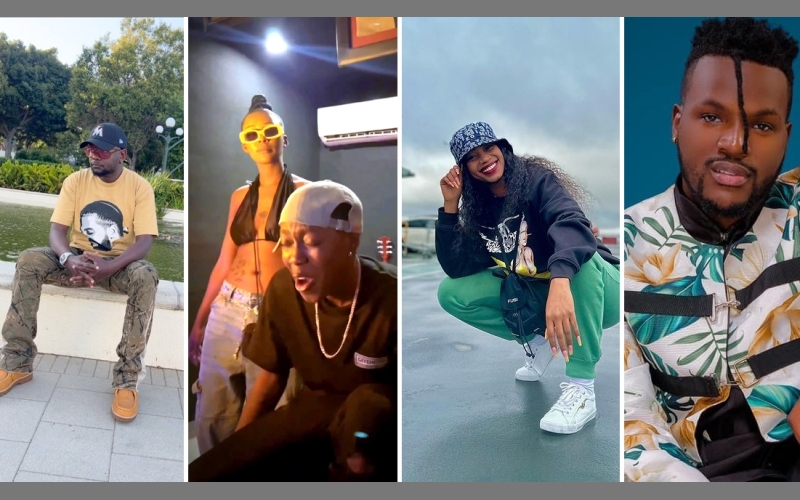 The music industry in the country has recently been abuzz with controversy surrounding the song 'Twafuna.' This saga revolves around a song that was initially recorded by Sheebah and Zulitums but eventually saw the light of day with Jowy Landa and Vyroota. To clear the air and put the matter to rest, renowned music manager Jeff Kiwa, also the head of Team No Sleep (TNS), sat down for an exclusive interview to share his side of the story.
In his first-ever interview on the matter, Jeff Kiwa expressed his frustration with the ongoing accusations and offered a detailed account of the events leading up to the controversy. He firmly asserted that people have been quick to jump to conclusions without understanding the full story.
The roots of this saga date back to 2018 when Jeff Kiwa purchased the song 'Ex' from the relatively underrated artist and songwriter, Avion King. Jeff saw the potential of the song, and he was eager to collaborate with talented artists. At that time, Sheebah was one of his artists, and Zulitums, along with his manager Smoky, were also part of the mix.
"I bought the 'Ex' song from Avion King because I knew it was going to be a hit," Jeff Kiwa explained during the interview. "Zulitums' team reached out to me, asking for a collaboration with Sheebah. I suggested the 'Ex' song and sent it to them, and they liked it."
The collaboration was initially successful, with Nessim overseeing the recording process, and Avion King contributing his writing skills. However, the situation took a turn when Zulitums and his manager from Blacq Avay Records and Entertainment decided to part ways.
Smoky informed Jeff Kiwa that they no longer intended to release the song, and Jeff, a passionate music lover, was determined not to see a song he cherished go to waste.
Jeff's involvement in the song's future continued when DJ Roja, a friend, expressed interest in collaborating with Zulitums and Vyroota. Jeff decided to regain ownership of the song and bring it back to life with new artists.
"I asked Smoky to return ownership of the song to me, which he did officially," Jeff Kiwa recounted. "By then, my friend DJ Roja had already suggested that we work with Vyroota and Jowy Landa, and I agreed to it."
"I aspired to commence the work on the latest rendition of the song; however, regrettably, Nessim encountered difficulty locating the original project on his computer," reminisced Jeff Kiwa. "In my pursuit to resolve this, I contacted Smoky, seeking the original copy. Smoky, however, advised me to reach out to Zulitums, who possessed a copy of the project. Subsequently, Zulitums obtained consent from Smoky before forwarding the project to Nessim via email."
Later, Nessim shared a version of the project through a Dropbox link with Jeff Kiwa. In this rendition, all voices were muted except for the chorus.
"I phoned Vyroota, arranging for him to meet me at Nessim's studio by 8 p.m. At that point, I was already in the studio with Jowy Landa, who had been diligently working on her parts of the song since 2 p.m., well before Vyroota's arrival." - Jeff narrated.
Vyroota, despite not listening to the original demo, was enthusiastic about the project. The recording session was collaborative, with Vyroota suggesting changes to Jowy Landa's first verse while maintaining the original chorus.
To promote the new version of the song, Jeff recorded a 40-second video of Vyroota and Jowy Landa in the studio, which was initially shared on Vyroota's TikTok account.
However, a day later, accusations started surfacing on social media, claiming that the song belonged to Sheebah and that Jeff Kiwa had stolen it to promote the new version.
Jeff Kiwa vehemently denied these allegations, stating, "I can't think of anyone that would share an unreleased song to sabotage the new version. I don't do fake promotions with my artists. I love music, and it's my passion. I don't play around with it."
He also emphasized that he had no ill intentions towards Sheebah or Zulitums because he likes them as professional artists. He had initially planned to release the song 'Twafuna' in 2024 but was compelled to release it earlier due to the controversy.
Zulitums, when approached for a comment, succinctly expressed, "This entire drama is unnecessary, I must say. We recorded that song, and I prefer not to delve into the details. I make a conscious effort to distance myself from such drama."
Jeff Kiwa firmly rebuked the allegations and expressed his frustration with the situation. He reiterated that the song 'Twafuna' is a result of his passion for music and his desire to see it prosper, emphasizing that he did not steal the song. He urged Sheebaholics to reconsider their accusations and acknowledge the song's history.
As the story unfolds, it remains to be seen how this saga will impact the careers of those involved and the Ugandan music industry as a whole.
Download the Howwe Music App