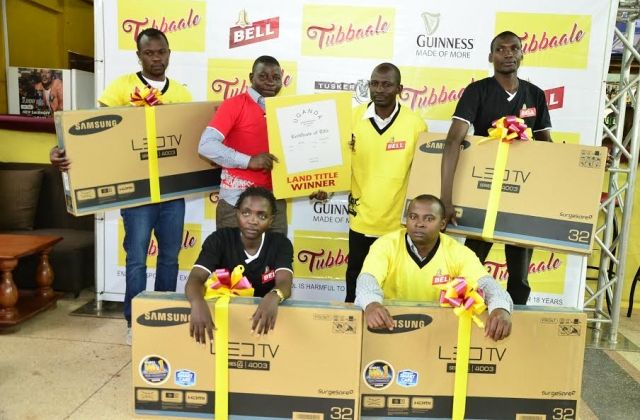 India's Ali Asjan is one of the lucky Uganda Breweries Limited (UBL) winner who participated in the Company's 3 billion promotion.
This is part of the ongoing Tubbaale promotion where UBL is rewarding their loyal customers with goodies like vans, plots of land, flat screen television sets, motor cycles among other giveaways like power banks, airtime, headphones, T-shirts and beer.
A number of prizes have so far been given away to 66 lucky winners who were rewarded at the last two prize redemption activity Centre at UMA Showgrounds, where Ali also walked away with a motorcycle.
An eager Ali said, "This is a dream come true and I could never have achieved it without this promotion."
This promotion was launched 26th July, 2016 as one way of giving back to the community and exciting their customers through the wide range of prizes as they celebrate 70 years of existence.
Bell Brand Manager said that the promotion is one of the ways the company rewards its customers after their support for the past 70 years, and continue to celebrate many years to come.
"We still have a lot more under the crown so even after today, make sure you keep drinking and celebrate with us." Maureen relayed.
Tubbaale will run for two months (August and September) featuring three of UBL's renowned beer brands; Bell Lager, Tusker Malt Lager and Guinness.
To participate in the promotion, check under the crown of any of the three UBL brand beers featuring the promotion; Tusker Malt Lager, Guinness and Bell Lager. Send the code to 6050 and stand a chance to win.
"However, while we encourage you to participate in the promotion, we urge you to drink responsibly, we have also called on participating outlets not to sell alcohol to anyone under the age of 18," Maureen concluded.