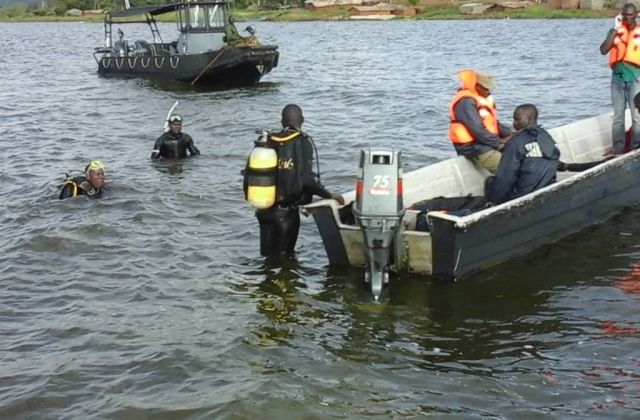 Uganda Police force and Uganda Peoples Defence Forces-UPDF Marine units will today conclude the seven-day rescue operation at Mutima Beach with a thorough search of the wreckage of the capsized boat which was retrieved on Thursday.
More than 30 revelers lost their lives when the MV Templar capsized on Saturday, November 24, 2018 on its way to K-Palm beach in Mukono District, where a party had been organized for a select group of merrymakers. 27 others were rescued alive.
The marine units have over the last 6 days been searching the waters for any possible remains and to retrieve the sunken boat which they succeeded at last evening, after pulling the wreckage from underneath the lake using steel cables tied on a tractor and an excavator.
On Friday morning, the unit officers started a search for any possible remains before officially closing the operation. The divers are checking in the waters for possibilities of bodies that had been stuck under the wreckage, while the Ministry of Works inspectors and some Marine officers are examining the wreckage.
There is speculation that there are bodies still stuck in the wreckage after divers spotted body parts two days ago. However, Zurah Ganyana, the police spokesperson in charge of the operation says the divers were too tired to go on with the search by their time the wreckage was retrieved.
"Now what is left is searching the boat and the water for any bodies. Also just checking what exactly is in the boat," she says.
But Asuman Mugyenyi the Police Director of Operations says the boat needs to be moved further onto the land for better search and inspection.