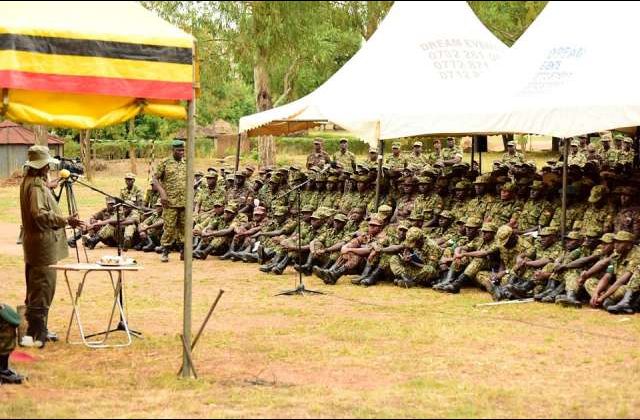 President Yoweri Museveni, also the Commander-in-Chief of Uganda Armed Forces, has reiterated his call to Officers and men of the Uganda People's Defense Forces (UPDF) to internalize the principles of the Liberation Army that include, among others, patriotism and Pan- Africanism, which will not only guarantee the survival and prosperity of the people of Uganda but also of the entire black race on the African continent.
The President was Tuesday interfacing with Officers and Men of the 4th Infantry Brigade Headquarters in Gulu Municipality in Northern Uganda.
"NRA gained an upper hand because it prioritized patriotism as opposed to sectarianism. Think of patriotism in Uganda and outside Uganda, think of Pan Africanism to guarantee our prosperity and survival," he said.
He added that Uganda alone will not provide enough market for its products hence the need to think of Africa for a bigger market.
Gen. Museveni cited the example of the current production of 2.7 billion litres of milk per annum in Uganda and yet our consumption is only 800 million litres leaving a surplus of 1.9 billion litres that need regional markets.
"Even maize, we produced 5 million tones and Ugandans consumed only one million. So, the 4 million tones need a regional market. We now produce 10,000 motorcycle tyres per day and we only use 3,000 leaving a surplus of 7,000 tyres. So thinking of Pan Africanism gives us a bigger market," he said.
He told the Gulu-based soldiers of the systems of the Armies since the traditional days, explaining that those Armies were only serving the interest of the traditional Kings who were later defeated by the colonial Army, like the Kings African Rifles except for Ethiopia and only served the security and economic interests of colonialists, among others.
He added that after the attainment of independence, African leaders, who by then were very young, defied the meaning of independence.
"All came to power when they were young without knowing their aims. You want to lead when you don't know what to do. This is very dangerous," he observed.
Gen. Museveni was accompanied by the Chief of Defense Forces, Gen. David Muhoozi, the Commander of Land Forces Lt. Gen. Peter Elwelu and the Joint Chief of Staff, Lt. Gen. Joseph Musanyufu, Others included the Chief of Medical Services, Maj. Gen. Dr. Ambrose Musinguzi, the Commander of the Special Forces Command, Maj. Gen. Don Nabaasa and the Commander of the UPDF's Engineering Brigade, Maj. Gen. Timothy Sabiiti Mutebile.
Others were UPDF Spokesperson, Brig. Richard Karemire, UPDF Political Commissar, Brig. James Matsiko and 4th Infantry Division Commander, Brig. Bonny Bamwiseki.