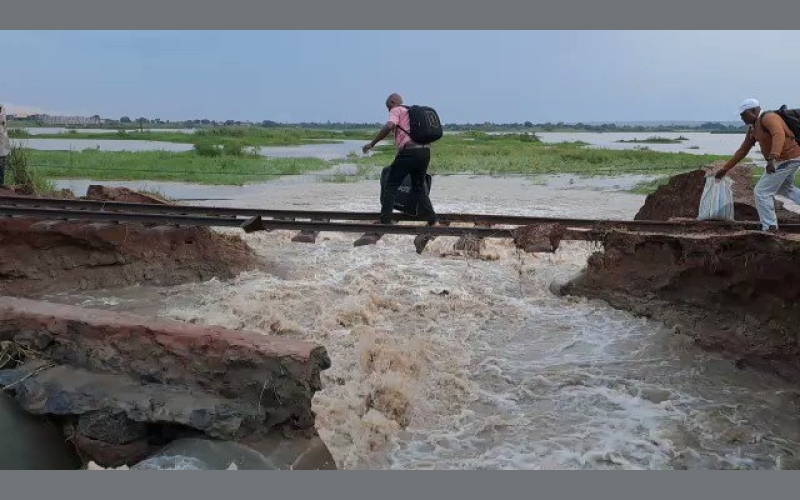 All vehicles stuck at Pakwach due to floods have been allowed to pass through the Murchison Falls Park from Tangi gate free of charge.
The directive was given by Vice President, Jessica Alupo following flooding of River Tangi which is near Pakwach bridge that burst its banks cutting off traffic flow along the Olwiyo-Pakwach road on Wednesday.
The incident left several passengers and vehicles destined for Kampala and West Nile stranded for hours.
According to Paul Eseru, the Pakwach Resident District Commissioner (RDC), the district has been receiving heavy rains over the past two days forcing River Tangi to burst its banks.
He adds that the Vice president's office intervened to clear vehicles from West Nile districts heading to Kampala through Murchison Falls Park from Tangi gate via Paraa and connect to Masindi through Kafu to Kampala without paying the park fees. "
In the absence of such an emergency, the Uganda Wildlife Authority (UWA) charges Shillings 25,000 per adult and Shillings 10,000 per child to enter the park. Lorries and buses are charged Shillings 200,000, saloon cars Shillings 20,000, mini-buses Shillings 30,000, and pick-ups Shillings 30,000 when they use the newly built road through the Murchison Falls National Park that connects to Masindi.
Robert Omito Steen, the Pakwach LC V chairperson, says the issue of floods near Pakwach bridge has become rampant, noting that experts at Uganda National Roads Authority should find a lasting solution to the flooding.
Earlier today, the Ugandan National Roads Authority, UNRA noted that their teams were on ground mobilizing materials and equipment to commence interim interventions to restore connectivity at the broken section.