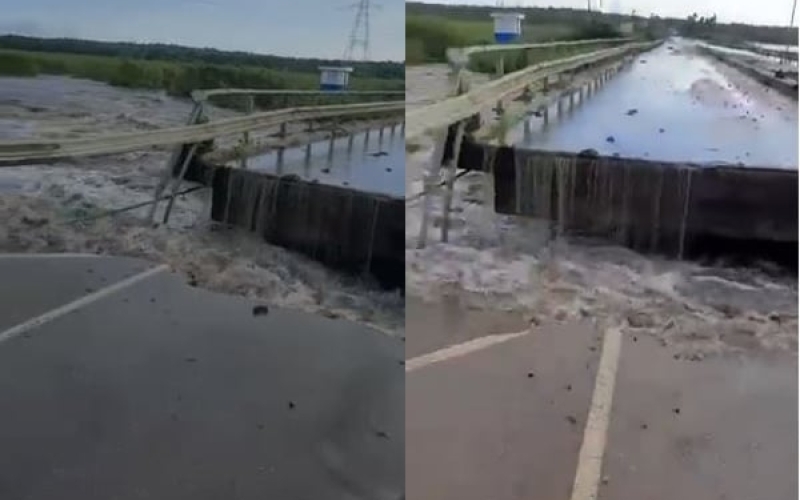 The Uganda National Roads Authority (UNRA) has commenced technical assessments of the Katonga Bridge on the Masaka-Kampala highway.
This action comes in response to a significant increase in water levels in the River Katonga, resulting in the submersion of a section of the highway and the bridge.
The situation has created hazardous conditions for both motorists and pedestrians attempting to cross the Kampala-Masaka highway in Mpigi district, located approximately 60 kilometers before Masaka.
Despite warnings and the implementation of alternative traffic routes, some truck drivers ignored the caution and continued to navigate through the flooded road. Unfortunately, their actions led to the collapse of a portion of the Katonga Bridge in the evening.
On Friday, a team from UNRA, led by Acting Executive Director Engineer Samuel Muhoozi, inspected the bridge to assess the extent of the damage. Allan Ssempeebwa, the UNRA Spokesperson, stated that the team is evaluating strategies to address the defects on this crucial highway. The road will remain closed until the necessary repairs are completed.
Ssempeebwa urged travelers to follow the advice of using the alternative route via Mpigi-Gomba, passing through Sembabule-Villa Maria to Masaka. He emphasized that prioritizing safety is essential and cautioned against risking travel on a damaged road.
The Katonga Bridge, spanning the River Katonga, serves as a vital link to the southwestern parts of the country and connects Uganda to various regions in Tanzania, Burundi, Rwanda, and the Democratic Republic of Congo. With an estimated average daily traffic of at least 30,000 vehicles, the closure of the bridge presents a significant transportation challenge.
Francis Bbuye, the Chairperson of Nkozi Sub County, called on UNRA to expand its interventions by addressing the issue of floating aquatic weeds in the tributaries that feed into the River Katonga.
Bbuye explained that these weeds, including papyrus, contribute to the obstruction of different sections of the river, resulting in increased water levels and subsequent overflows.
Local residents in the nearby villages of Buganga and Muge reported that this is the third instance of severe flooding in the River Katonga since Uganda gained independence.
Download the Howwe Music App