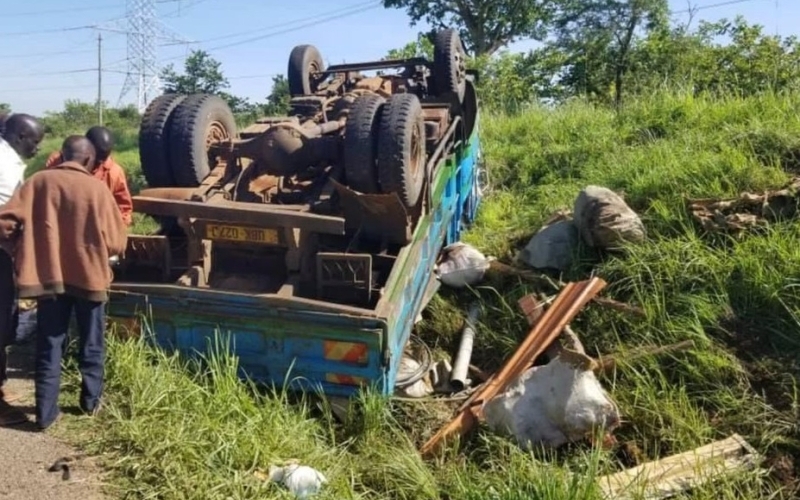 Two lives were lost and four others were severely injured following a devastating incident that occurred along the Gulu-Anaka Highway in Koch Goma Sub-county.
The accident took place on Sunday evening around 5 pm when the driver of an Isuzu forward truck, registered as UBK 027J, lost control after hitting a speed bump, causing the vehicle to overturn multiple times.
The victims were enroute to Arua City after attending the burial of Rtd. Col. Charles Okello Engola Macodwogo, the Minister of State for Labour Employment and Industrial Relations, who tragically lost his life on May 2 due to a gunshot wound. The burial took place on Saturday at his ancestral home in Awangi village, Iceme Sub-county, Oyam District.
Among the deceased are 20-year-old Dina Tiperu, a resident of Ociwa cell, Ambekoro ward, Oluko division, and 25-year-old Deyia, a resident of Adravu cell, Wanji ward, Oluko division, both from Arua City.
The injured individuals include Janet Candiru, 45 years old, Felix Asanzis, 28 years old, Sharon Rinzisyo, 25 years old, and Anguyo Arafat, 43 years old, a resident of Kenya zone, Mvara ward, in Arua City.
According to David Ongom Mudong, the Spokesperson for Aswa River Region Police, the crash was caused by the truck driver's excessive speed. Mudong explained that the driver, identified as Simon Andama, lost control while approaching the river Ayago at high speed, leading to a collision with a speed bump.
He added that Andama fled the scene of the accident on Sunday and is currently on the run. As of now, two of the injured individuals are in critical condition and are receiving medical treatment at St. Mary's Hospital Lacor in Gulu City.
Mudong cautioned all drivers against speeding, emphasizing the severe consequences it poses not only to themselves but also to other road users and passengers.