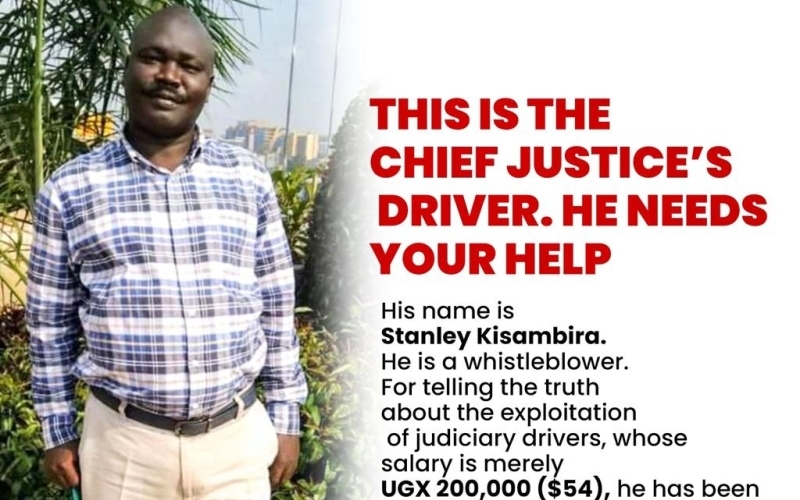 Stanley Kisambira, a driver employed by the Judiciary, has been apprehended by the police in Kampala to facilitate an investigation into his recorded claims made in audio clips.
According to Luke Owoyesigyire, the Deputy Police Spokesperson for Kampala Metropolitan, a General inquiry file was opened on Monday evening at Central Police Station to examine the allegations made by Kisambira in the audio, where he threatened to cause an accident with a principal inside.
At present, we are unable to independently verify which judicial officer Kisambira drives for. While social media platforms suggest that he is the Chief Justice's driver, Owoyesigyire states that he serves as a driver for a judge attached to Mbale High Court.
Owoyesigyire noted that Kisambira has declined to provide a statement to the police without the presence of his lawyer.
In the audio clips, Kisambira can be heard expressing dissatisfaction with salary disparities in the judiciary for drivers and complaining about earning only 200,000 Shillings since joining the justice system in 2008.
Earlier in the day, the Judiciary issued a statement addressing Kisambira's audio, acknowledging his concerns and offering clarifications to shed light on the matter.
"While the approved salary for drivers may be inadequate, the Judiciary leadership resolved that the allowances for all non-judicial staff (including drivers) in the institution be enhanced in line with CSI No.6 of 2018 on duty facilitating allowance," said Jamson Karemani, the Judiciary Public Relations Officer, in a statement on May 14th, 2023.
The statement explained that drivers now receive a consolidated monthly allowance, paid out quarterly, in addition to their salary. The combined total monthly payment for a driver exceeds one million shillings. It was also mentioned that all Judiciary staff members have access to health insurance services.
Kisambira's audio has sparked discussions on social media, with many applauding him for exposing the low salaries of judiciary rank-and-file members.
A fundraising campaign has been launched to support Kisambira in obtaining legal representation and welfare.
The campaign encourages donations, highlighting Kisambira's role as a whistleblower who bravely spoke out about the exploitation of judiciary drivers earning a meagre 200,000 shillings ($54). The flyer states, "Kisambira is prepared to face punishment or termination but refuses to be silenced."
Anonymous sources, recognizing the sensitivity of the case, have expressed the opinion that the Judiciary should have increased Kisambira's salary instead of involving the police.
Download the Howwe Music App