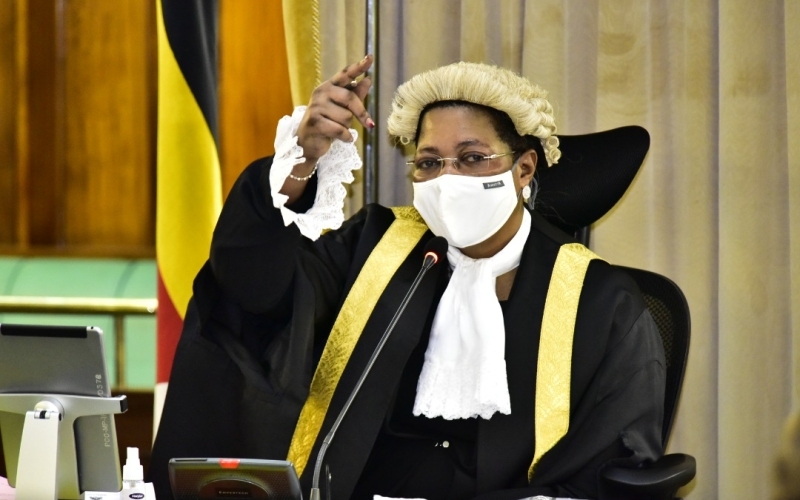 The Speaker of Parliament, Anita Among, has directed Attorney General Hon. Kiryowa Kiwanuka to reintroduce the Narcotic Drugs and Psychotropic Substances (Control) Bill, 2016, following its annulment by the Constitutional Court on May 5, 2023, due to lack of quorum.
During the plenary session on May 16, 2023, Speaker Among stated, "Since the bill is ready, it is the responsibility of the Attorney General to table it again, and I am giving him until Thursday to bring back the bill. Otherwise, the private member will be allowed to reintroduce it."
Speaker Among further emphasized that if the Attorney General fails to table the bill by Thursday, May 17, 2023, Bugiri Municipality MP, Asuman Basalirwa, will have the opportunity to reintroduce the same bill.
The Speaker's directive came after Kiryowa Kiwanuka requested a 14-day extension to reintroduce the bill, which was rejected by the legislators.
Members of Parliament expressed concerns about the government's commitment to fast-track a bill that has faced legal challenges, citing previous instances where annulled bills were not acted upon for more than a decade.
In response, Hon. Basalirwa stated, "There have been numerous pronouncements by the Supreme Court and Constitutional Court on legislations, but we see no action. If the Attorney General remains silent, we have no choice but to proceed and introduce private members' bills."
Sarah Opendi, the Tororo District Woman MP, stressed the urgency of addressing issues related to narcotic drugs and criticized the government for the slow progress in tackling such a critical matter. Opendi questioned why the bill had not been reintroduced despite being passed seven years ago and called for its operationalization.
The Attorney General reiterated the government's commitment to the legislation and pleaded with the House to allow him to reintroduce the bill instead of resorting to a private member's bill.
"The government is genuinely interested in this bill. We will handle this matter promptly. Going through the private member's bill route would require reconciliation with the private member. I request your understanding in bringing back this bill," appealed Kiryowa Kiwanuka.
The Narcotic Drugs and Psychotropic Substances (Control) Bill, 2016 aims to regulate the possession, trafficking, and cultivation of narcotic drugs, psychotropic substances, and certain plants. Additionally, it provides provisions for the forfeiture of property derived from illicit trafficking in such substances.