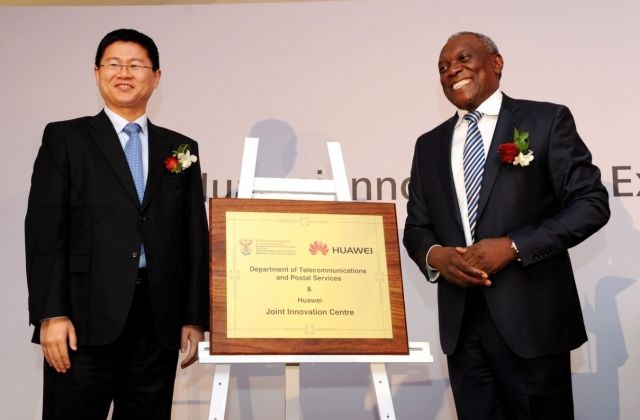 Huawei signed a Cooperation Contract with the Department of Telecommunications and Postal Services (DTPS) on July 19th during the launch of their joint Innovation and Experience Centre in Johannesburg. The Centre will showcase futuristic ICT products and solutions across the Carrier, Enterprise and Consumer business, as a new platform to push the development and innovation of the ICT industry in Africa.
Li Peng, President of Huawei ESA region and Siyabonga Cwele, Minister of DTPS after unveiling the Joint Innovation and Experience Centre
The joint Innovation and Experience Centre is a platform for industry players to explore what the ICT world has in store allowing them an experience of what is available in the developed world and what is to come. Huawei's Regional President of East and Southern Africa, Mr. Li Peng said, "The center is one of our long-term investments in Africa. It will provide governments, telecom operators, academies, enterprises better understandings of the latest ICT solutions. Huawei will leverage the center to produce joint innovation with ICT stakeholders in Africa. Huawei focuses on innovation and is committed to empowering Africa' digital transformation with continuous strategic investment."
The DTPS endorsed centre is another milestone achieved through strategic relations between Huawei and the department, aimed at enhancing local ICT skills, job creation, and the bigger scope of securing South Africa's position as Africa's ICT hub. Minister of the DTPS, Dr. Siyabonga Cwele said, "Thank you very much Huawei, for the important contribution to the development of ICT in South Africa, we are pleased to strengthen our cooperation with Huawei, to achieve digital transformation in South Africa. The signing of Cooperation Contract today is the beginning of DTPS & Huawei collaboration, to bridge the digital divide in South Africa."
The Chinese ambassador, Mr. Tian Xuejun also praised Huawei by highlighting, "The seed from last year's Forum on China-Africa Cooperation is being harvested, ICT is truly the driving tool of any economies development. The Chinese government always encourages excellent enterprises from China, like Huawei to work closely with South Africa to achieve a win-win result."
The centre cost 72 million Rand (5 million USD), and is located in Sandown's Vunani Office Park in Johannesburg. It will also serve as an open lab to 5 local universities, namely: University of Johannesburg, Tshwane University of Technology, Durban University of Technology, Vaal University of Technology.Huawei has also committed to training 1000 ICT talent in South Africa by the year 2021
The Centre is a leading ICT experience platform in Africa, flooring 500 sqm, equipped with 5G/4.5G wireless communication technologies, Video( VR, 4K Video, Mobile Video), Smart Home solutions, Safe City solutions, Smart Metro solutions, Mobile Money Solution, VoLTE & VoWiFi, Transmission, IoT / NB-IoT, Cloud Service, Data Center, Smartphones and wearable devices amongst other technologies, to ensure the synchronization of technologies in Africa and the Global, form the leading force of ICT in Africa, to assist the development of African countries.
Tian Xuejun, Ambassador of People's Republic of China to South Arica, Ruan Ping, Consul General of People's Republic of China to Johannesburg, Dr Siyabonga Cwele, Minister of Department of Telecommunication and Postal Service of South Africa, Tjekero Tweya, Minister of ICT of Namibia, along with other 120 distinguished guests attend the launching ceremony.
The joint Innovation and Experience Centre
CASINO, Lucky Winner
Earn Money Now