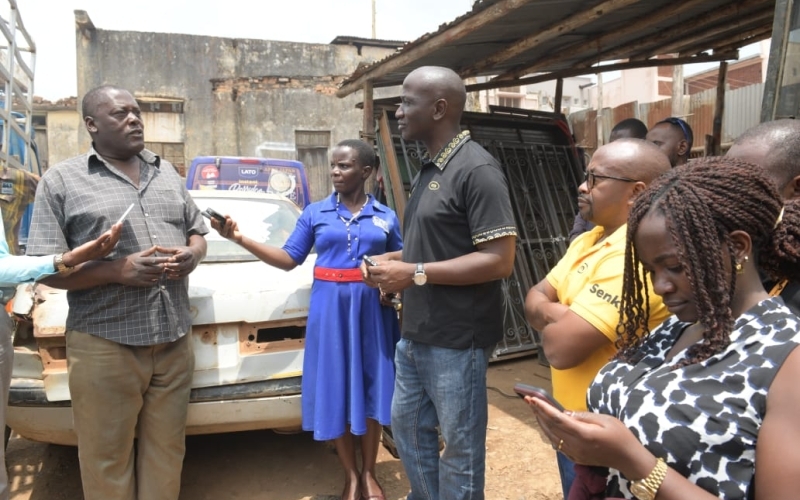 MTN Uganda's unstoppable drive has taken another step with the appointment of Owekitibwa Kiwalabye Male as the named Chief Community Officer for the Greater Masaka area that includes districts of Bukomansimbi, Butambala, Gomba, Kalangala, Kalungu, Kyotera, Lwengo, Lyantonde, Masaka, Mityana, Mpigi, Rakai, and Ssembabule.
MTN's commitment to connecting with and supporting communities is reflected in this move to appoint CCOs like Male, who will serve as a bridge between the company and local communities.
To better understand the needs of communities in Masaka, Bogera, representatives of the CCO, and Patrick Tusiime, MTN's Commercial Head Central, met with unstoppable entrepreneurs such as the Masaka Tusitukire Wamu Association – Tumakas, made up of over 3,000 members.
Their activities in Masaka city include cleaning the city for free, encouraging youth to save in SACCOs, and organizing youth events. Also visited were the local business community at Masaka Central Market to better understand how the company can support them.
MTN visited Mzee Jamil Walugembe of Twekembe garage in Masaka City, who has been in business since 1984 and works with more than 40 employees, including some he is mentoring. Such as maverick female mechanics.
Twekembe Garage: Where Generations of Mechanics Meet Cutting-Edge Technology
Nestled in the bustling streets of Masaka City, Twekembe Garage stands as a testament to the enduring legacy of generations of mechanics. Founded in the 1960s by Mzee Walugembe's great-grandfather, this family-run garage has been a hub for car repairs and maintenance for over half a century.
For Mzee Walugembe, the decision to follow in his father and great-grandfather's footsteps was an easy one. "I come from a generation of mechanics," he explains. "When it came time for me to pick what to do, the choice was easy. My father and grandfather had worked in this garage."
Despite its storied history, Twekembe Garage has not rested on its laurels. As vehicles become more electronically controlled and the industry becomes increasingly automated, Mzee Walugembe recognizes the need to remain competitive. "We need to keep up with the changing times," he explains. "That's why we're looking at investing in automated paint mixers and computerized diagnostic tools."
But even as Twekembe Garage embraces cutting-edge technology, it remains rooted in the values of its founders. The garage has always been a family affair, and Mzee Walugembe is quick to point out that his employees are like his own children. "We work together like a family," he says. "I treat them like my own children, and they treat me like their father."
The garage's commitment to family extends beyond its employees. Mzee Walugembe and his team are dedicated to providing affordable and reliable car repairs to the community. "We want everyone to be able to afford our services," he says. "We know that owning a car is expensive, and we want to help people keep their cars on the road."
As the automotive industry continues to evolve, Twekembe Garage remains a beacon of stability and innovation. With its deep roots in the community and its commitment to cutting-edge technology, this family-run garage is poised to continue serving Masaka City for generations to come.
Nakasaga Resty, 20 years; wiring mechanic, Breaking Gender Barriers in the Automotive Industry
At the Twekembe Garage in Masaka City, Uganda, Nakasaga Resty is busy working on a car's electrical system. With a wrench in her hand and a focused look on her face, it's clear that she knows exactly what she's doing. At just 20 years old, Resty is breaking gender barriers in the automotive industry, one wire at a time.
After dropping out of school at senior three, Resty was at a loss for what to do next. That was until her friends encouraged her to consider becoming a mechanic. At first, Resty was hesitant. After all, it wasn't exactly the most traditional career path for a young woman in Uganda. But with some persuasion, she decided to give it a try.
It didn't take long for Resty to realize that she had found her calling. "I was initially hesitant but now I enjoy the work," she said. "I love learning about cars and figuring out how to fix them." Resty quickly became a regular at the Twekembe Garage, where she was able to learn from experienced mechanics and hone her skills.
Despite facing some resistance from male colleagues who didn't believe that a woman belonged in a garage, Resty persevered. She specializes in vehicle wiring, inspired by her mechanic friends who showed her the ropes. "I want to promote the industry to female mechanics," she said. "There's no reason why women can't be just as good as men in this field."
Resty is not alone in her desire to see more women in the automotive industry. According to a 2018 report by the International Labour Organization (ILO), women account for just 16% of workers in the automotive industry globally. However, there are signs that this is beginning to change. In countries like India and Brazil, for example, women make up a higher percentage of the automotive workforce.
Resty is doing her part to encourage more women to enter the industry by sharing her story and being a role model for other young women. She hopes to one day own her own garage and create opportunities for other women to pursue careers in the automotive industry.
For Mzee Jamil Walugembe, the owner of Twekembe Garage, having women like Resty on his team is a source of pride. "I believe that women can do anything that men can do," he said. "And when I see Resty and the other female mechanics working here, I know that's true."
Resty's determination and passion for her work have earned her the respect of her colleagues and customers alike. She may be young and female, but when it comes to fixing cars, Resty is a force to be reckoned with.
Damali Fatuma Namaganda, 17 years; fuel injector specialist
Damali Fatuma Namaganda is a remarkable young woman who has broken gender stereotypes in the male-dominated world of mechanics. At just 17 years old, Damali has been honing her skills in the garage for the past three years, specializing in servicing vehicles' injectors and nozzles – a feat that many of her male colleagues can only dream of achieving.
Damali had always been fascinated by the way machines worked. She would often spend hours observing her father and brothers working on cars and other vehicles, and eventually decided to try her hand at it herself.
Despite facing skepticism and discrimination from some of her male peers, Damali remained determined to pursue her passion for mechanics.
As a result of her hard work and dedication, Damali has become one of the most sought-after mechanics in her town. She walks with an air of confidence and purpose, knowing that she has not only shattered stereotypes but has also carved a name for herself in a field that was once considered off-limits for women.
Damali's specialty in servicing vehicles' injectors and nozzles requires a high level of technical expertise, and she takes pride in being able to diagnose and fix even the most complex of problems. Her keen eye for detail and her meticulous approach to her work have won her the respect and admiration of her colleagues and clients alike.
But for Damali, being a female mechanic is not just about excelling in her work; it's also about paving the way for other young women who aspire to join the industry. She hopes that her success story will inspire other girls to pursue their dreams, regardless of societal expectations.
"I want to show other girls that they can do whatever they set their minds to, no matter what people may say," Damali says. "I want to inspire them to be brave and follow their passions, just like I did."
As she looks toward the future, Damali is a shining example of what can be achieved with determination, hard work, and a willingness to challenge the status quo.