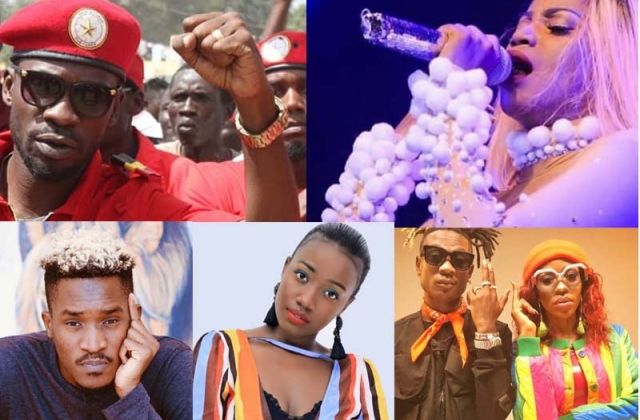 Sheebah's 'Beera Nange', is the hottest Ugandan song of 2018.
The artistes on the list are those whose songs were the most popular, commercially successful and massively streamed during the course of the year.
Sheebah, King Saha alongside Fik Fameica, arguably the best male artist of the year, each have two songs on the list.
A Pass, Slick Stuart & DJ Roja, Bobi Wine, Vinka, Lydia Jazmine and Daddy Andre also feature on Howwe's list.
A list of the top 10 Ugandan songs has been compiled. These songs are like a panacea to our various personal issues and help us do away with the stress on the dance floor.
On this list, we feature the best of the best of Ugandan music considering all genres and releases between 1st January 2018 and 31st Dec 2018. The list was compiled based on the number of times a song has been streamed and downloaded on the biggest free music platform in East Africa, Howwe.Biz.
Special recognition to recently released songs which we think could have featured on the list; Matala by Winnie Nwagi, Wasibuka Wa by Bebe Cool, Love Again by Fille, Now by Spice Diana ft Daddy Andre, Tukwatagane - John Blaq
17. Fire Dancer - Winnie Nwagi
16. Siri Muyembe - Rema
15. Mateeka - Jose Chameolene
14. No You No Life- B2C
13. Sabula - Fille
12. Touch My Body- Rema
11. Mummy Yo-Sheebah
The top 10 list.....
10: Didadada - A Pass
9. You And Me - Lydia Jazmine And Daddy Andre
8. Sconto - Fik Fameica Feat. Wembley
7.Biri Biri - King Saha
6. Wankona - Sheebah
5. Very Well - Slick Stuart & DJ Roja Ft King Saha
4. Kyarenga - Bobi Wine
3. Property - Fik Fameica
2. Chips Na Ketchup - Vinka
1. Beera Nange - Sheeba Karungi