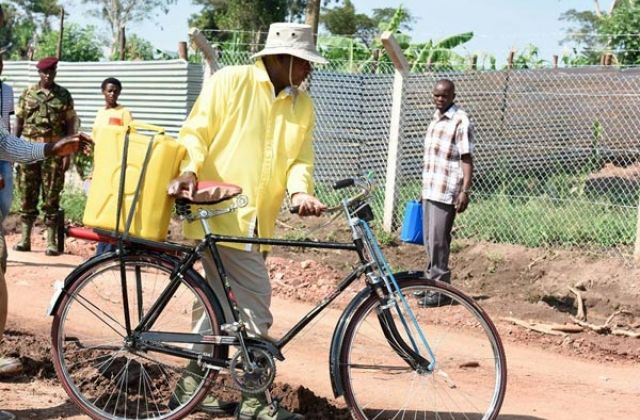 Agriculture Committee of Parliament wants the distribution of seedlings under Operation Wealth Creation (OWC) stopped.
Members who were recently on a fact-finding mission in several districts, say the government may not be receiving value for money in distribution of coffee, citrus, tea and other seedlings.
The Committee Chairperson, Pader Woman MP Lowila Otekayot, says they found many anomalies including wastage of seedling procured by the National Agricultural Advisory Services (NAADS) Secretariat and distributed by OWC.
The MPs say more than half of the seedlings that have so far been distributed freely to farmers at sub counties have never been planted.
Otekayot says would-be farmers pick the seedlings when they have not adequately prepared where to plant them or just pick because they have seen other farmers picking free handouts from government.
Otekayot was chief guest today, Tuesday, at a meeting organised by Civil Society Advocacy Budget Group (CSBAG). She was receiving the civil society position paper for the agricultural sector for 2017/2018 budget.
Former Agriculture Minister, Victoria Sekitoleko, during the meeting expressed fear that the country could witness a widespread distribution of pests and diseases unless the seedling distribution process is streamlined.
President Museveni, during his 2016 Independence Day anniversary speech in Luuka district, voiced similar concerns after he had discovered that about half of the 122 million coffee seedlings distributed to farmers countrywide had dried up.
The Civil Society Advocacy Budget Group (CSBAG) analysis of NAADS and OWC under the 2014/2015 financial year budget found that the two bodies had physically performed over 100% in terms of distribution seedlings and farm inputs.
The analysis, however, found that over 44% of the farmers had reported challenges of low survival of seedlings that they received from the soldiers and district officials.
Patrick Katabazai, a budget policy specialist with CSBAG says the analysis reveals the the same problems in the financial year that is about to close.
Katabazi is calling for a more decentralised seedling distribution if farmers are to get living seedlings that can grow once planted by the recipients. He says currently, seedlings go through many hands before they reach the farmer for planting.
Also, civil society wants distributors of seedlings to be verified to ensure quality of what they supply.