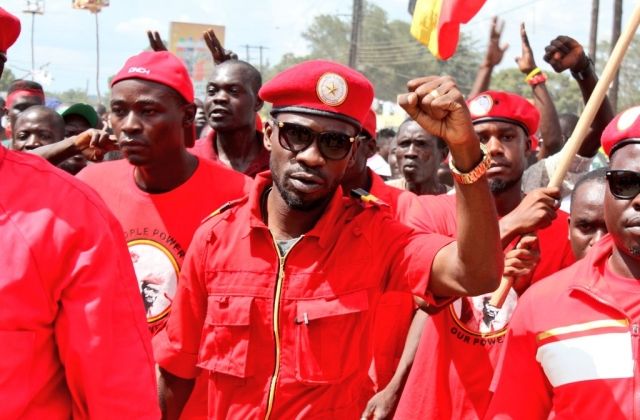 The Special Forces, Uganda Peoples Defence Forces-UPDF unit remains heavily deployed in Arua and have sealed off Hotel Pacific a scene of crime where one person was shot dead last evening.
The hotel is also the base of the Kassiano Wadri campaign camp, where a number of politicians were arrested last night. The SFC also closed off Adumi road where the hotel is located from public access.
The development stems from a scuffle between supporters of Kassiano Wadri and independent candidate the Arua Municipality MP race led by Kyadondo East MP Robert Kyagulanyi alias Bobi Wine and police last evening.
One person identified as Kawuma Yasin a driver to Bobi Wine was killed in the scuffle.
Earlier in the dead, 2 other people had been shot in the stomach and leg respectively. Police blames Bobi Wine's camp of attacking the President's motorcade at prisons cell as the latter was leaving boma grounds where he was campaigning for Nusura Tiperu, the NRM candidate.
"One of the president's lead cars was attacked and smashed by these hooligans that were donning colors of one of the contestants in the election Kassiano Wadri. Security forces intervened to calm the situation and it became riotus as many were pelting stones at the president's convoy.
Unfortunately in the scuffle, one person was fatally injured in motor vehicle Reg. No. UAT 416K a Tundra, he is believed to be dead" the police spokesperson said in a statement.
Currently, the whereabouts of Kassiano Wadri, and Bobi Wine remain unknown after they disappeared in a sweep off at the hotel by the Special Forces Command last evening.
A witness claims President Museveni was in the convoy and stopped after a stone landed on his vehicle. He however asked the armed escorts not to fire at the charged youth who were attacking them convoy.
Some sources claim Bobi Wine and Wadri Kassiano were whisked off on boda bodas during the chaotic incident, and are yet to be found by security forces. However, Josephine Angucia the area Police spokesperson indicates that the driver of Bobi Wine was shot by a stray bullet.