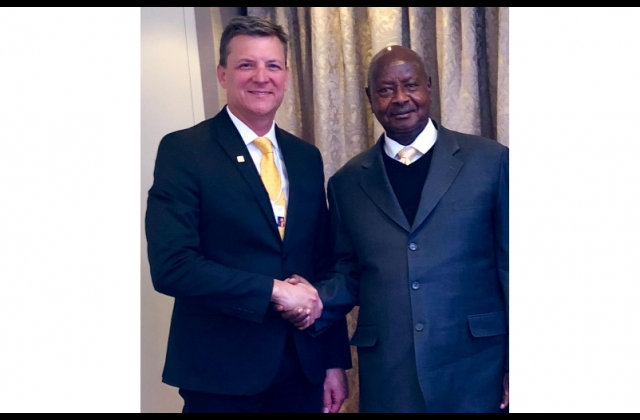 Uganda's President Yoweri Museveni has met with Telecom Giant, MTN's top most boss on the sidelines of the World Economic Forum in Switzerland.
The group's twitter account announced the meeting between Museveni and Rob Shuter.
"MTN Group CEO @ShuterRob met with His Excellency, President Yoweri Museveni of Uganda at the World Economic Forum to reaffirm MTN Group's commitment to Uganda and discuss recent developments in the market," the tweet reads.
Their meeting comes a day after Uganda deported top executives of MTN Uganda, accusing them of compromising national security.
MTN Uganda's Chief Marketing Officer, Olivier Prentout, was detained at Entebbe airport on Saturday after returning from a business trip and then sent back to France.
The company also confirmed that its Head of Sales and Distribution, Annie Bilenge Tabura, was arrested by security personnel as she arrived at its headquarters in Kampala on Monday morning, then deported to Rwanda.
Museveni's meeting with Shuter comes on the heels on intensified discussion on the fate of the telecom giant seeking renewal of its licence.
MTN's 20-year license expired in October. The firm applied for a 10-year extension and the Uganda Communications Commission gave it an interim renewal lasting 60-days pending resolution of a number of unspecified issues before a final license is issued.
Ugandan authorities have said MTN has agreed to list its shares on Uganda's local bourse as a condition of renewing its license, though the firm itself is yet to confirm this