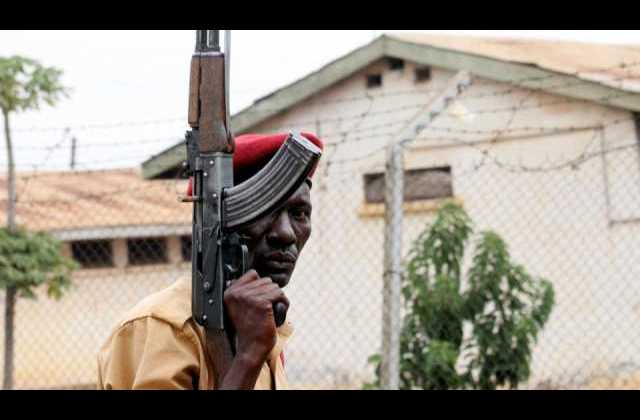 Officers from Uganda Peoples Defence forces UPDF, Police and Uganda prisons services are still in pursuit of more than 200 inmates whole pulled the largest prison break ever in the country.
The incident happened on Wednesday evening at around 5:00 pm when the prisoners overpowered a guard and escaped from Moroto Government Prisons with guns. They reportedly broke into the armory and made off with about 30 guns.
The prisoners are reported to have fled towards Tapac and Loputuk Sub Counties.
The inmates allegedly attacked an officer on duty and broke into the armory before running away.
Two military helicopters were also deployed and hovered over Mount Moroto where the inmates were believed to have been hiding by last evening. Brig. Flavia Byekwaso, the UPDF spokesperson says they are still looking for the prisoners and asked members of the public to remain calm.
"The operation by U
PDF in pursuit of escapees from singila prison on moroto to re-arrest them and recover the stolen guns continues. The population therefore is advised to stay calm" she says.Moroto Government Prison was last week, closed to new inmates after 30 inmates tested positive to Covid- 19 and were all evacuated to Jinja Isolation Centre for treatment while over 200 other inmates were placed under quarantine.
It remains unclear why only one guard was manning the armory, even with such a big number of inmates. Ugandans on social media have instead treated this as a movie, and others are making fun of the inmates being the Karamajong who have finally done something to develop them selves.

Gals Betting: Get 10% Refund on All your Losses
Click Here