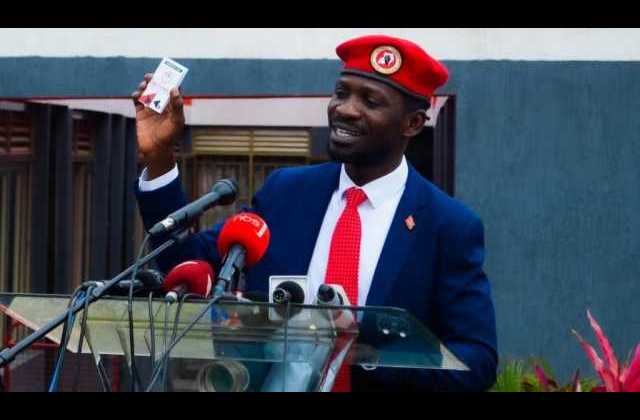 The National Unity Platform, NUP party president Robert Kyagulanyi Ssentamu has asked the Uganda police force to treat all Presidential aspirants equally during the nomination exercise.
The development comes after police wrote to Kyagulanyi about the route he will be using while heading to Kyambogo grounds for nomination tomorrow.
"You will be escorted by the Uganda Police Force with a lead traffic vehicle/motorcycle, to the nomination venue with your team as per the Electoral Commission" IGP Okoth Ochola writes.
Kyagulanyi's route will be; Magere, Kumbuzi, Kisasi, Ntinda Stretcher Road, Spear Motors, Kyambogo University Junction, nomination venue.
"We look forward to your positive cooperation in this exercise" the IGP added.
Upon receipt of the IGP's letter, Kaygulanyi said President Yoweri Museveni who was the first candidate to be nominated on Monday morning, was allowed to have people waiting and cheering him on by the road sides, so they as NUP expect the same.
"Police has written to me about this route as I go for nominations tomorrow. Today, we saw people mobilised by NRM standing along different roads, guarded by the police, unmolested. WE HOPE THE POLICE WILL BEHAVE THE SAME WAY IF OUR SUPPORTERS STAND AND BY THE ROAD TO WAVE TO US" Kyagulanyi wrote.
So far, two candidates; Yoweri Museveni and Lt. Gen. Henry Tumukunde have been nominated. Katumba John, Gen. Mugisha Muntu and Nancy Kalembe will also be nominated today.
Only Gen. Henry Tumukunde Kakurugu had a slight incident when police used tear gas to disperse his supporters who had joined his convoy at Nakawa and ignored police warnings.
Also, Tumukunde who was expected to be nominated at 1PM run into issues to do with his papers that needed to be verified by commissioner of oaths. This was later sorted out and Tumukunde was nominated at 2:21pm.
Police is expected to have a field day tomorrow when Kyagulanyi and his FDC counterpart Patrick Oboi Amuriat get nominated. Amuriat already announced that he will have processions, despite warnings from police and EC.