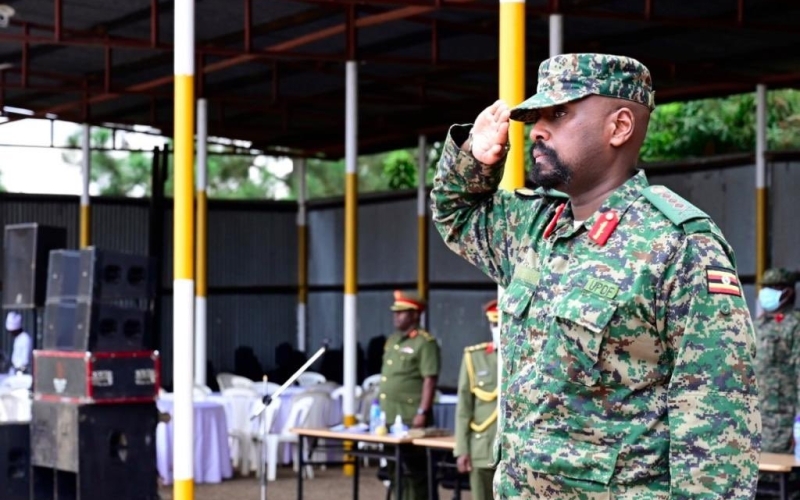 President Yoweri Museveni has submitted an apology to our neighbors in Kenya for statements made against them by the first son on twitter.
The apology comes hours after the president, also the commander in chief of the armed forces, promoted Gen. Muhoozi Kainerugaba to the highest rank in the Ugandan army.
"I ask our Kenyan brothers and sisters to forgive us for tweets sent by General Muhoozi, former Commander of Land Forces here, regarding the election matters in that great country. It is not correct for Public officers, be they civilian or military, to comment or interfere in any way, in the internal affairs of brother countries,"

— Museveni said in a statement issued this afternoon.
These changes come as Muhoozi's recent controversial tweets on overthrowing neighbouring Kenya and degrading it to a mere district and plans for a larger united federation of East Africa led by President Museveni went viral.
In one of his tweets, Muhoozi says the armed forces of Uganda can overthrow Kenya in the next two weeks.
"It would take us, my army, and me two weeks to capture Nairobi. After we capture Nairobi, where should I live? Westlands? Riverside?"
He goes on to write, "I am happy that members of our district in Kenya have responded enthusiastically to my tweet. It's still two weeks to Nairobi."
In another tweet, he posted, "Had a good discussion with my great father this morning. Apparently, my tweets scared Kenyans too much? He will announce the changes. There is a special prayer I shall make for our army."
He added in another tweet; "After capturing Nairobi, I shall take my wife on a tour of our district."
The tweets have since been received with mixed reactions from members of the public both in Kenya and Uganda with worries that the posts could lead to a diplomatic row between the two countries.
Following his tweets, the Ministry of Foreign Affairs has dismissed the sentiments of the Commander Land Forces saying Uganda respects and enjoys a cordial working relationship with Kenya.
"The Ministry of Foreign Affairs wishes to clarify that the government of the Republic of Uganda doesn't conduct its foreign policy and other official business through social media nor does it depend on social media sources in dealing with other sovereign governments," the statement said in part.