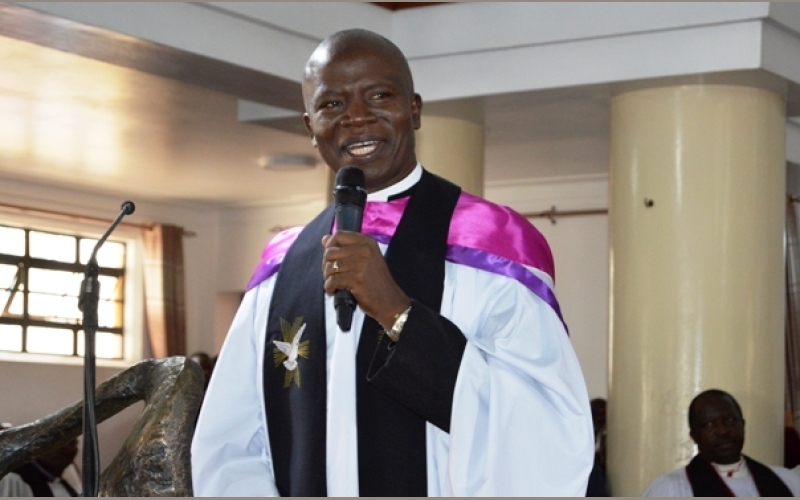 Rev Onesimus was born on 24th April 1965 in Mparo, Rukiga District. He was born again on 8th January 1988.
Rev. Onesimus Asiimwe has been elected by the House of Bishops as the 6th Bishop of North Kigezi Diocese. He replaces the Rt. Rev. Benon Magezi, the Bishop of North Kigezi Diocese who died in 2021.
After the death of Magezi, the Archbishop of the Church of Uganda, the Most Rev. Dr. Stephen Samuel Kaziimba appointed retired Bishop Patrick Tugume as the caretaker of the North Kigezi Diocese.
The election of the new Bishops was announced during the sitting of the House of Bishops on Wednesday at Lweza Training and Conference Center.
A press statement issued by the Church of Uganda Provincial Secretary Rev. Canon William Ongeng, Asiimwe will be consecrated and enthroned as Bishop on March 12 2023 at Emmanuel Cathedral, Kinyansano, Rukungiri.Rev Onesimus earned a Master of Divinity from Uganda Christian University, a Bachelor of Education from Makerere University, and a Diploma in Education from the National Teachers College in Kabale. He has attended numerous capacity-building trainings locally, as well as internationally.
Rev. Onesimus is currently the Chaplain of St. Francis Chapel, Makerere University. Prior to this position, he served as the Provincial Youth and Students Coordinator where he helped develop the very influential PAYSCO (Provincial Annual Youth and Students Convention) programme.
He also served as the Chaplain to Archbishop Henry Luke Orombi, and Coordinator of the Provincial Healing, Deliverance, and Intercessory Prayer Ministry.
The House of Bishops also elected Reverend Canon Enos Kitto Kagodo as the fifth Bishop of Mukono Diocese. He will replace Right Reverend James William Ssebaggala who is retiring after clocking 65 years of age.
Ongeng, says that Bishop-elect Kagodo will be consecrated and enthroned Bishop on 26th February 2023 at St. Philip's and Andrew's Cathedral, Mukono.
Rev. Enos, 54, is currently the Provost of St. Philip's and Andrew's Cathedral in Mukono. Prior to this position, he served as a parish priest, Archdeacon, and Diocesan Health Coordinator. He was ordained a deacon on 9th June 2002 in Mukono Diocese and later made a priest on 12th December 2004.
Also elected is Rev. Canon Simon Akol Aisu as the second Bishop of North Karamoja Diocese. He will be enthroned on 12th February 2023 at Christ Church Cathedral, Kotido.
Canon Aisu is currently the Sub-Dean of Christ Church Cathedral in Kotido. He has served in a number of positions in both Karamoja and North Karamoja Dioceses, including Archdeacon, Theological College Principal, Diocesan Secretary, and parish priest.
Download the Howwe Music App