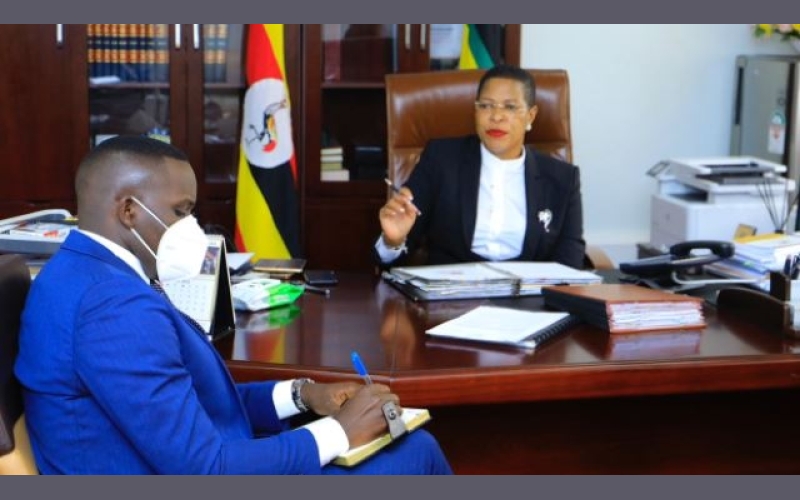 The leadership of the Committee of Statutory Authorities and State Enterprises – COSASE is up in arms against the Speaker of Parliament Anita Among after she ordered a value-for-money audit, accusing it of underperformance.
Among revealed on Wednesday that out of 107 entities referred to the Committee for further probe following the recommendation of the Auditor General for the Financial Year 2020/2021, they were only able to scrutinize the operations of four entities.
The four entities the Committee probed included; Uganda Railways Corporation – URC, Uganda Land Commission – ULC, Uganda National Airlines Company Limited, and the Uganda National Roads Authorities - UNRA.
She accused the Committee led by Joel Ssenyonyi, who is also the Nakawa West Member of Parliament of 'laziness' thus failing to probe the various entities recommended by the Auditor General within the six months.
However, Ssenyonyi said that the Committee operates under numerous challenges and reminded Among of the strains which she equally experienced when she was the Committee's Vice Chairperson in the 8th Parliament.
The Leader of Opposition Mathias Mpuuga noted that membership of the COSASE, a public accounts committee of Parliament is composed of majority MPs from the ruling National Resistance Movement – NRM party thus faulting its leadership is an indictment on all.
Among also directed the House to adopt all the recommendations of all the reports under COSASE including an investigation on the Uganda National Airlines Company Limited.
The probe later implicated the President for unlawfully appointing Jenifer Bamuturaki as the CEO leading to the gross misappropriation of hundreds of millions of taxpayers' money and human resource mismanagement.
Among also refused Ssenyonyi to present the report on the floor citing leakage which contravened Rule 216 (1) of the Rules of Procedure of Parliament which prohibits the publishing of a report or any evidence in a committee before it is presented to the House.
She also revealed some staff of Parliament attached to the COSASE Committee are already being investigated for alleged leakage of the report.