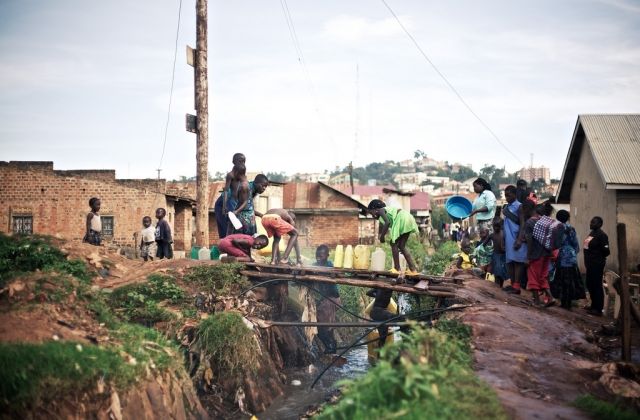 Richard Katende and Ruth Nakaweesi are part of more than 50 residents of Kamwokya Slum who have been left in tears after their homes were demolished by a city tycoon this morning.
According to the duo, demolition followed an eviction order granted to city businessman John Bosco Mwesigye by the High Court in Kampala. Katende however, claims there's not proff of ownership.
Measuring one acre of block 222, the land in question had about 10 structures. But hell broke loose today, when officers from Kira Road Police Station led a group of bailiffs to execute the court order which saw families kicked out of a place they had called home for years.
Residents attempted to block the eviction using machetes, rods and stones but were overpowered by police which used teargas to disperse the crowds before the demolition began.
However, affected residents say that the legitimate owner of the land in question is John Kisosonkole and not John Bosco Mwesigye, to whom the court order was issued. They claim Kisosonkole allowed most of them to occupy the land.
Katende further indicates that John Bosco Mwesigye had to prove ownership of the land before demolishing structures and evicting people.
Some tenants say they were not forewarned about the demolition. Nakaweesi, a mother of five and a tenant in one of the demolished house says she wasn't warned and has to suffer looking for where to take her children.
But, Micheal Kasigire, the Kira Road Divisional Police Commander (DPC) told the media that people on the disputed land had information of the eviction order for more than four months.
"They even went to the Bamugemereire Land Commission contesting the eviction. The commission cleared the eviction to be implemented. I cannot supervise the implementation of something that is illegal," Kasigire said.
However, a Irene Natukunda another victim accuses one of the commissioners in the Catherine Bamugemereire of taking a bribe to clear the eviction.