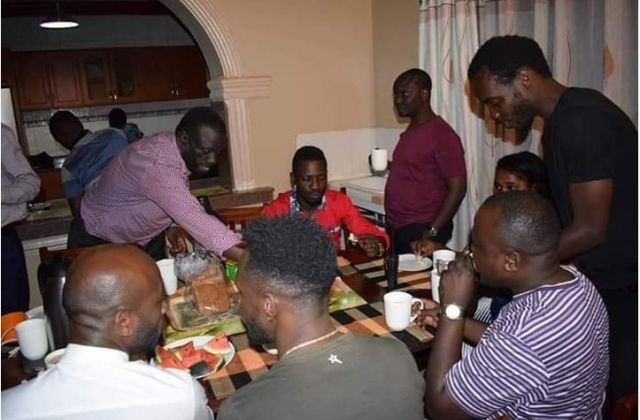 Over the weekend, opposition and Forum For Democratic Change leader Dr. Kizza Besigye was attacked by hooligans while leaving Bulange Mengo based CBS FM where he had been hosted for a talk show.
It was later reported that his attackers were chanti ng the slogan, "People Power" affiliated to musician turned politician Bobi Wine.
A number of critics came out to attack Bobi Wine for getting involved in such a selfish act that weakens the opposition.
However Bobi Wine dismissed the reports that he was behind the attack.
He posted, "I have learnt that a group of people gathered outside CBS radio station earlier today, and heckled Dr. Kizza Besigye as he left the studio. Apparently, most of these people were chanting the #People_Power slogan. This is regrettable.
First of all, as I have always said, the #People_Power movement is a non-violent movement. We do not condone acts of violence against anyone. Let me once again implore all our supporters across the country to understand this and put it into practice.
Secondly, we believe in the unity of all forces of change in Uganda. Dr. Kizza Besigye has been such a strong pillar for the forces of change- alongside other men and women who have made immense sacrifices for this struggle. Regardless of any real or perceived disagreements in the strategy or tactics of taking the struggle forward, all of us must treat each other with respect. We cannot be fighting amongst ourselves. We must shoot in the same goal.
Thirdly and finally, regarding this specific event, we are still trying to establish clear facts surrounding the incident. Those who have followed the politics of this country will understand that such stunts and machinations have in the past been stage-managed by the state and some other actors to achieve political objectives. Therefore, we are yet to come to a conclusion after fully investigating the incident. Should we find that some of the people involved genuinely belong to #People_Power, we shall take measures to fully address this.
On our part, we continue to engage all forces of change, including Comrade Dr. Besigye on how to take the struggle to the next phase. We shall not allow anything and anybody to distract us from this important mission. #WeMustStayFocused
#UnityIsStrength
#PeoplePower_OurPower."