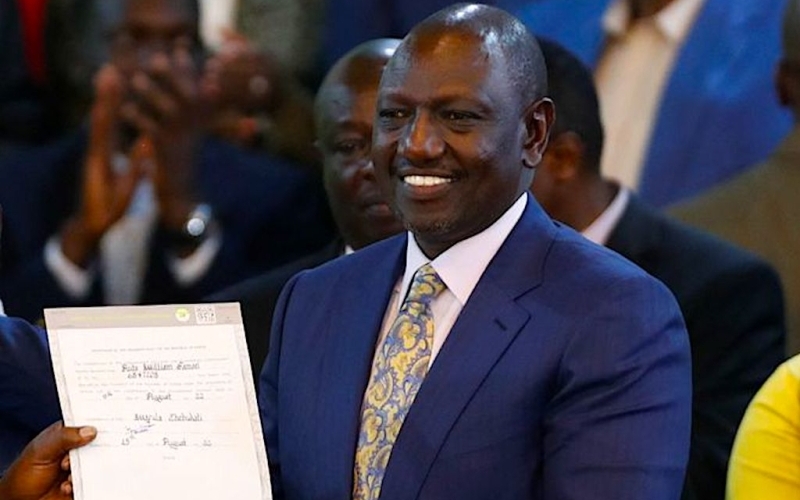 William Ruto, UDA, was on Monday evening declared the fifth president of the East African nation, by the Independent Electoral and Boundaries Commission (IEBC).
Ruto polled 7,176,141 votes representing 50.5 percent against his closest rival Azimio's Raila Odinga who garnered 6,942,930 votes representing 48.85 percent.
The official announcement was made by the IEBC chairperson Wafula Chebukhati at about 6:00 pm on Monday.
However, chaos emerged just before the declaration when the electoral commission's vice chair Juliana Cherera, and three other commissioners told journalists they could not support the "opaque nature" of the final phase.
"We cannot take ownership of the result that is going to be announced because of the opaque nature of this last phase of the general election.We are going to give a comprehensive statement... and again we urge Kenyans to keep calm. There is an open door that people can go to court and the rule of law will prevail," she said in a presser on Monday.
The sudden split in the commission came minutes after Odinga's chief agent said they could not verify the results and made allegations of "electoral offenses" without giving details or evidence. Odinga didn't even come to the venue for the declaration.
Now Kenyans wait to see whether Odinga will again go to court to contest the results of last Tuesday's peaceful election in a country crucial to regional stability.
Article 141 (2),(a) of the Kenyan constitution provides that a President Elect should be sworn in on the first Tuesday, two weeks after a declaration by the IEBC is made.
However, a dissatisfied contestant has only seven days from the day of declaration to file a petition at the Supreme Court. And the Supreme Court is supposed to determine a petition within 14 days from the date of filing.
Download the Howwe Music App