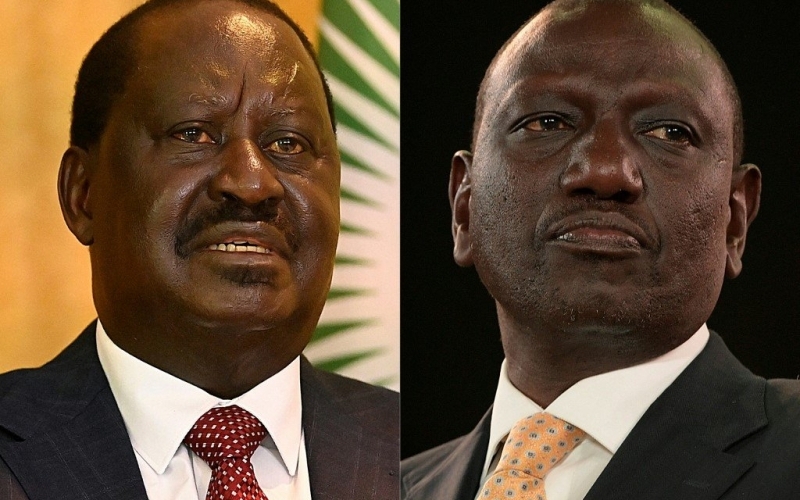 Raila Odinga of the Azimio party has beaten his closest contender, William Ruto, UDA in a diaspora vote for President of the Republic of Kenya.
The Kenyan Diaspora constitutes 12 countries including Uganda, Burundi, Canada, Germany, Qatar, South Africa, South Sudan, Tanzania, United Arab Emirates, the United Kingdom, and the USA.
Kenyans across the divide turned up in fairly large numbers to cast their vote, which largely closed by Thursday morning.
According to provisional results from the Independent Electoral and Boundaries Commission (IEBC), Odinga has won in eleven of the 12 diaspora polling centers.
In Uganda, Odinga has 553 votes against Ruto's 235, out of 1,411 voters, according to Form 34A posted on the IEBC portal.
Tanzania, voted for Odinga in three polling stations including Arusha and two in Dar es Salaam with Odinga polling 274 votes against Ruto's 127, out of 1,392 voters.
In Rwanda at a polling station in Kigali, Odinga got 220 votes against Ruto's 163, while in South Sudan, Odinga got 514 votes, against Ruto's 269, out of a registered total of 977.
Odinga is also leading in South Africa's two polling stations with 320 votes, while the outgoing Deputy President has 121 votes.
Ruto is leading in Doha, Qatar where he polled 519 votes against Odinga's 427, out of a total of 1,437 registered voters.
In the United Arab Emirates, UAE, Odinga polled 273 and Ruto 223 out of the total of 745 registered voters.
Meanwhile, in the USA and the UK, Odinga got 393 and 373 votes respectively, while Odinga polled 132 and 109 respectively.
Download the Howwe Music App