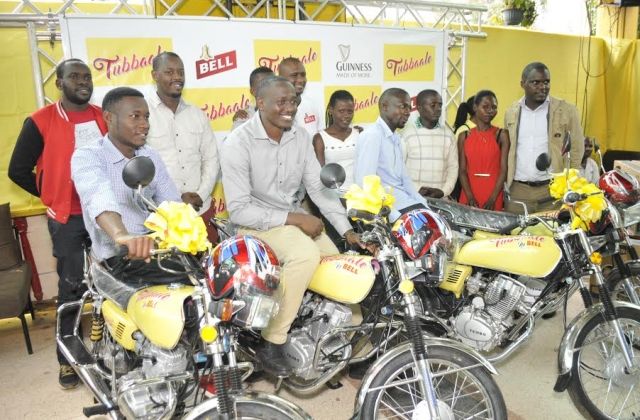 Uganda Breweries Limited (UBL) handed over prizes to the first lucky winners in the ongoing Tubbaale promotion that was launched on 26th July.
Front-runners walked away with 23 flat screens, 12 motor bikes and 7 plots of land in Kampala at UMA Show Grounds Lugogo.
Speaking at the handover ceremony, UBL's Head of Beer, Mark Mugisha said "Our customers are at the heart of our business. As we celebrate our 70 year anniversary, we are glad to be able to reward them for their continued support."
Roggers Murungi, a proud new land owner said he could not believe his luck. "My favorite beer has always been Bell Lager. When I heard about Tubbaale, I took a chance and decided to participate. I have always dreamed of owning a plot of land in Kampala. It's still shocking that my dream has come true." Murungi intends to develop his land, construct houses for rent and become a landlord.
Eria Kajura, a motor bike winner said he intended to use his prize to make money. "I can earn an extra income using this motor bike. I will now venture into the boda boda business thanks to Guinness, my favorite beer."
Unlike other promotions, Tubbaale will run for only two months featuring three of UBL's renowned beer brands; Bell Lager, Tusker Malt Lager and Guinness.
UBL also intends to traverse the country and take Tubbaale to the whole of Uganda in four explosive regional celebrations.
"While we encourage our customers to participate in the promotion, we urge them to drink responsibly and have called on participating outlets not to sell alcohol to anyone under the age of 18," Mugisha said.
Full List of Winners
FLAT SCREEN TVs
Kigozi Phillimon
Ali Asjan
Brian Lubajja
Morris Bwambale
Nicholas Erau
Sharifa Nayiga
William Mwanje
Ivan Nkuhairuue
Bennah Nuwagaba
Allen Kyomuhendo
Fred Katende
Andrew Shienbe Ganafa
Ronald Mukiibi
Moses Kanakulya
Josephine Bwanika Namayanja
Proscovia Namukoli
Alex Kibona
Manimake Adinani
Noah Namutidde
Mark Masereka
Gerald Ssembalirwa
PLOTS OF LAND
Alozius Kizza
Ntulage Alex
Sofie Namatovu
Ogeno Isaac .Anguyo
Rogers Murungi
Ivan Nsanziro
Joseph Walusimbi
MOTOR BIKES
Derrick Rutebemberwa
William Masembe
Eria Kajura
Morris Bwambale
Christopher Lubega
Teddy Nakyiranda
Edward Sempiira
Ruth Namukasa
Hilton Atwebembire