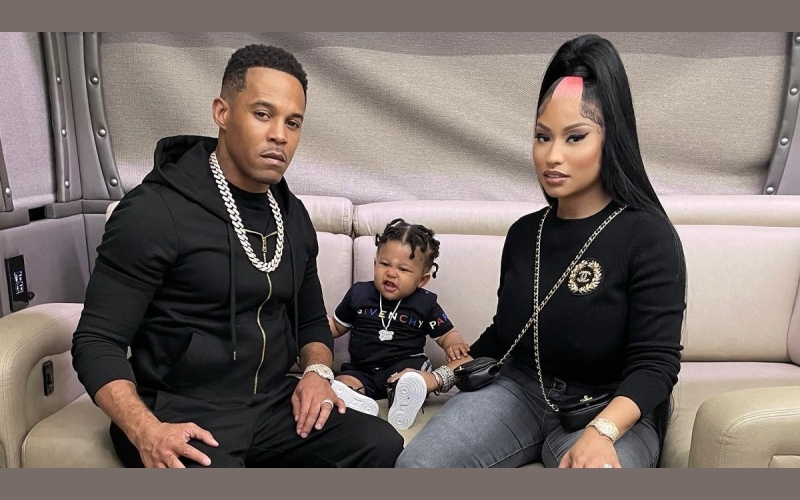 It's been three years since Nicki Minaj and her high school sweetheart-turned-husband Kenneth Petty welcomed their first child. Now, Minaj is getting real about how the life transition affected their marriage.
"I'm not going to lie, things got testy between us," Minaj, 40, recalled in the new issue of Vogue. "Because of our history, I think we knew we'd get past it."
"But there's no such thing as confidence in parenthood," the rapper continued. "I kind of wish that someone had told me—although I'm sure I wouldn't have been able to understand it — that there's a level of anxiety, and you think it's going to go away, but in fact it gets scarier. So often you think: I don't know how to do this!"
Minaj and Petty, 45, tied the knot in 2019, and their son was born in September 2020. Though Minaj has not publicly revealed their little one's name, she refers to him as "Papa Bear" on social media.
During her conversation with Vogue, Minaj also reflected on expectations versus reality in motherhood.
"I think that deep down inside, I believed that once I had a family, I would just lose the desire to make music," she shared. "I would always tell people, 'Watch, when I have a child I'm going to cook every meal for him and bake cookies every day.'"
"Maybe subconsciously I hoped my focus would just be on being a mother, and I looked forward to that idea," she added. "It felt like a relief."
Minaj went on to recall meeting a mom with a Pinterest-perfect home. According to Minaj, the woman thought of herself as the "world's best homemaker," but also felt bad for not working, and decided to put herself through nursing school.
"She felt guilty when she was doing the perfect homemaker thing, and guilt as a working mom when she missed a moment in their lives," Minaj said. "… It made me think, 'Well, if I'm going to have mom guilt regardless, I might as well continue doing the only thing I know how to freaking do, which is make music."
Minaj noted that she wants to use social media to connect with more mothers.
"There are questions that you just can't google," she said. "Every day a mom has to wake up and be a supermom no matter what they are faced with."
Download the Howwe Music App