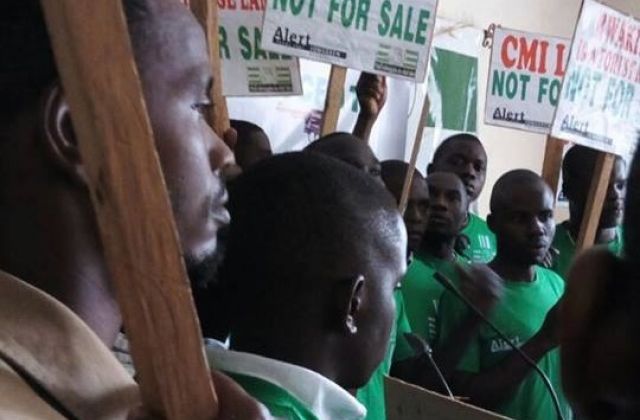 Democratic Party Youth under their umbrella body Uganda young democrats are petitioning parliament to dump the proposed land amendment bill claiming it is meant to help some mafias grab private land.
Addressing the press in Kampala today, the group's president Christopher Okidi said the amendment is a planning ideology to oust the resource sovereignty of the citizens and tamper with the 'sacrosanctity' of property rights which is a fundamental right under Article 26 of the constitution.
"This is how the aborigines, the Batwa, the Endoroisi in Kenya have been disposed of their land under the same pretext of development. We advise government to instead empower citizens' capacity to productively engage their land through investments in agricultural projects and by giving them tax subsidies. You cant victimize citizens for lacking capacity to develop their land yet this is the result of their mismanagement of the economy" said Okidi.
The youth printed signage reading "NOT FOR SALE" and which they will plant in all the public land which they allege was grabbed by Museveni regime and cronies advising them to vacate.
The youth have also written a petition to parliament about the inequities in public land grabbing which they were meant to present today to the speaker, but could not secure an appointment.
They claim some of the public land they want vacate is; Makerere Land opposite the main gate, Nakivubo market and War memorial Stadium, UBC land, MUBS Nakawa, Constitutional Square among others.
Download the Howwe Music App