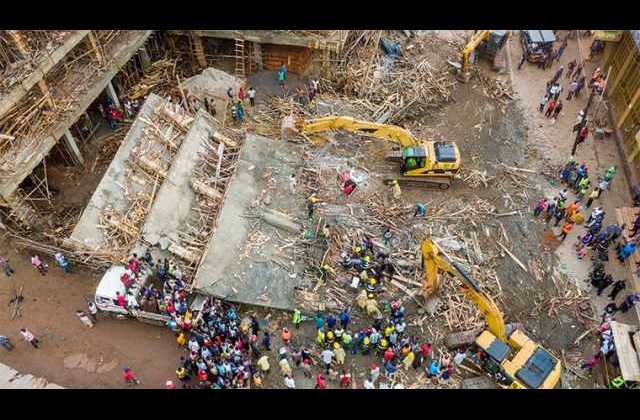 Six bodies have been retrieved and eight people rescued with injuries from the rubble of a building that collapsed in Kisenyi, on Sunday afternoon.
The building collapsed during the heavy downpour on Sunday, burying builders, drivers, food vendors and bystanders.
This prompted witnesses and the business community to use axes, hoes and hammers to try and rescue the victims. They would later be joined by the police fire and rescue teams.
While speaking to the media at Naguru this afternoon, Luke Owoyesigyire Kampala Metropolitan Deputy Police Spokesperson said the rescue teams recovered six bodies whose particulars are still being gathered.
He however identified the injured persons who are nursing injuries in Mulago Hospital as; Ben Kiwanuka, Emma Kato, Onyoch David, Henderson Ndawula, Maclean, Nandawula, and Marion Nakimbugwe. Two other survivors are still unidentified.
Residents have asked for an extended search saying that a number of people could still be trapped in the rubble. These claim that the search ended earlier and excavation of the rubble did not reach the ground a clear indication that more victims could still be trapped.
Kampala Lord Mayor Erias Lukwago has also called for a thorough investigation into the matter, arguing that there is little information about the permit for construction of the building, and all pointers are leading to illegalities in the issuance of the permit.
He wants the owner of the building identified as Haruna Kiggundu, the Engineers and KCCA building supervisors in the Central Division to be held accountable.
KCCA Spokesperson Daniel NuweAbine says they have instituted investigations into the matter.