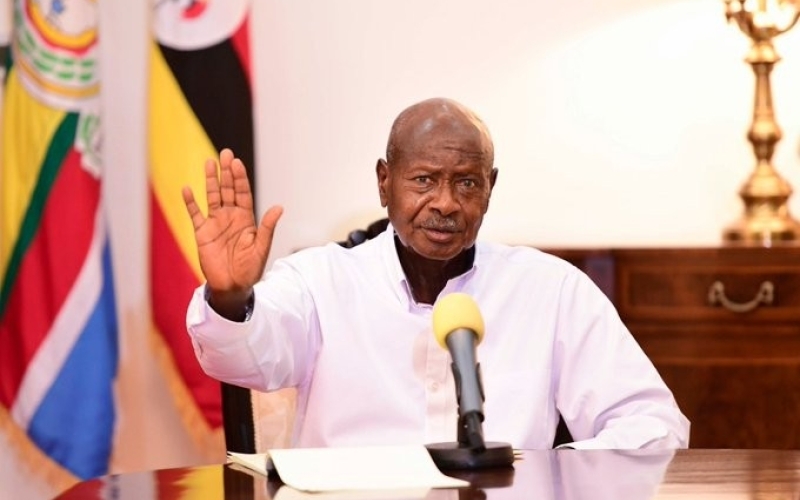 President Museveni will on Wednesday, September 23, address the nation on issues of national importance.
This was revealed by the Senior Presidential Press Secretary Sandor Walusimbi who said on Tuesday that the national address will be aired live on all TVs and radios starting at 8 pm.
Walusimbi said the national address by the President will update the country on issues of national importance including the recent outbreak of the Ebola Virus Disease(EVD).
Latest statistics from the Ministry of Health indicate that the cumulative cases of Ebola now stand at 36 with 18 confirmed and 18 probable cases while 35 are active cases on admission.
The deaths from Ebola are 23 with 5 confirmed cases and 18 probable.
Emmanuel Ainebyoona, the spokesperson of the Ministry of Health says the ministry has stepped up surveillance in case of any eventualities in the districts neighboring Mubende including Kampala.
He however trashed ongoing social media allegations that the disease has already spread to Kampala, which is just 150 km from Mubende.
"Cases reported outside Mubende include three in Kyegegwa and one in Kassanda but all linked to the index case in Mubende," he said on Monday, adding that there is "no confirmed cases in Kampala as yet".

— Ainebyoona said
Districts, where confirmed and suspected cases have been reported, include Kasanga, Kassanda, Kisoro, Kakumiro, Mubende, Kyegegwa, and Lyantonde.
Health authorities said samples from suspected cases are being analyzed at the Uganda Virus Research Institute.
On Tuesday last week, the MOH confirmed a Sudan Ebola Virus Disease outbreak in Mubende after one person who tested positive died.
The deceased was a 24-year-old Boda Boda rider who was first admitted at a local clinic in the Madudu sub-county, before being referred to Mubende Regional Referral Hospital.
Ebola presents with high body temperatures, fatigue, chest pain, diarrhea, vomiting, unexplained bleeding, and yellowing of the eyes.
It spreads through contact with the blood, stool, or fluids of an infected person and objects that have been contaminated with body fluids from an infected person.
One can also contract the disease through contact with blood, secretions, organs, or other bodily fluids of infected animals such as fruit bats and other wild animals.