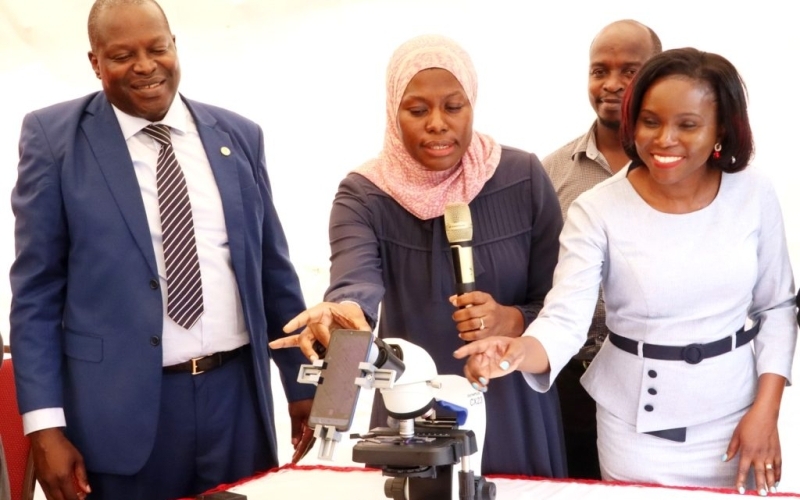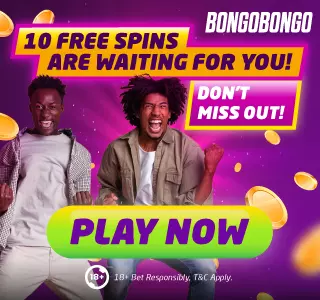 Makerere University
under its Artificial Intelligence Lab has received a grant funding worth US$1,500,000 from Google to support its Ocular project that is undertaking research on usage of Artificial Intelligence to enhance the diagnosis process of Malaria, Tuberculosis and Cervical Cancer in Uganda. This grant is in addition to what
Makerere University
received from Google's philanthropic arm in 2019 for development of AirQo, an air monitoring project that uses Artificial Intelligence (AI) and low-cost technologies to generate and quantify data on air pollution in the designated areas in Uganda.
The Ocular Project was officially launched on 13th September 2023, by the Permanent Secretary, Ministry of Information and Communications Technology and National Guidance (MoICT & NG), Dr. Aminah Zawedde. The research is being undertaken by Makerere University College of Computing and Information Sciences (CoCIS) in collaboration with the Makerere University School of Public Health (MakSPH).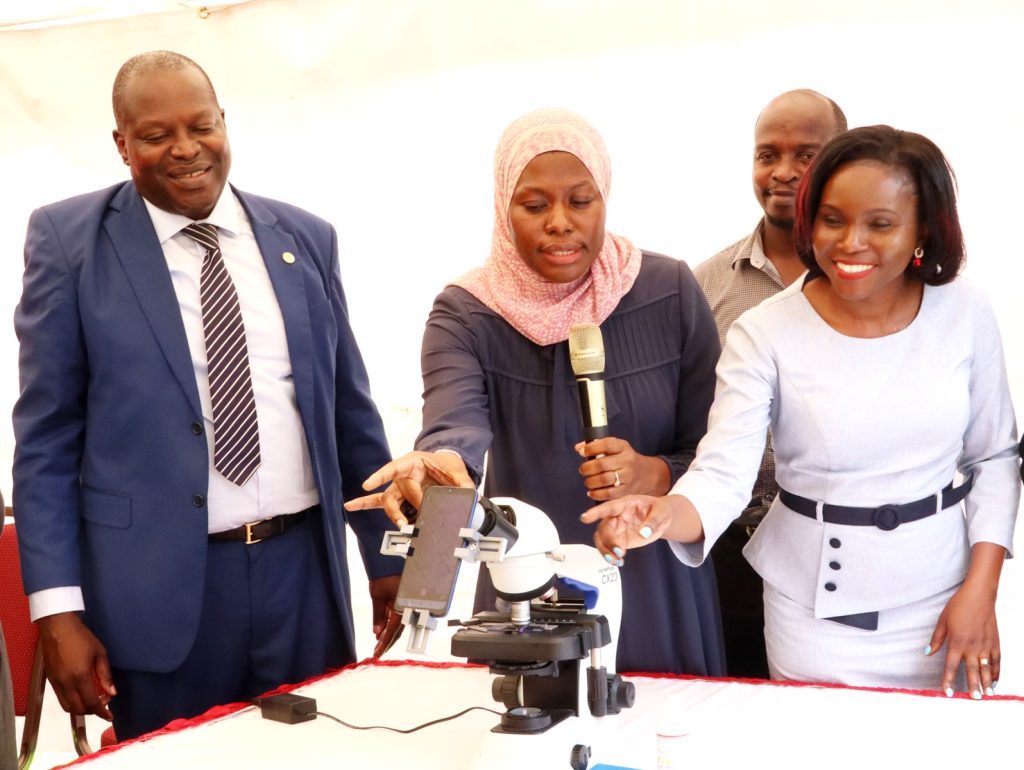 Left to Right: Prof. Tonny Oyana, MoICT & NG PS-Dr. Aminah Zawedde and the PI-Dr. Rose Nakasi at the launch of the Ocular Project Innovation.
According the Project Principal Investigator Dr. Rose Nakasi, The Ocular Project aims at building a standardized point-of-care mobile microscopy for disease diagnosis with a specificity of up to 99%. The solution's current focus is on malaria, tuberculosis and cervical cancer in Uganda.
Speaking at the launch, Dr. Rose Nakasi noted that the project team benched on the rampant challenges faced by the laboratory experts while undertaking diagnosis procedures. "In our interaction with some experts from the health sector, we found out that it was indeed straining for health centres in Uganda to manage the escalating number of patients that seek for laboratory screening tests. In addition, the team noted that the country is also blessed with a few trained laboratory technicians to support the diagnosis process using the microscope," she said.
The Project PI-Dr. Rose Nakasi explains the Ocular technology.
"We therefore took advantage of the existing technologies such as the smartphone and the availability of at least a microscope in every health centre across the country to develop a 3D printable adaptor that was attached to an eye piece of the microscope. The 3D adapter was also slotted in the smartphone to capture images. With the capabilities of Artificial intelligence through computer vision, images can be processed and this directs the experts where the pathogens are," she added.
According to Dr. Nakasi, this process shortens the diagnosis process making it more accurate, quicker and easier to diagnose health conditions and potentially reducing screening time by over 80%. With the new funding support from Google therefore, Dr. Nakasi said that the project will seamlessly expand to other conditions such sickle cell anaemia, intestinal parasites and be scaled up in different pilot hospitals in Uganda.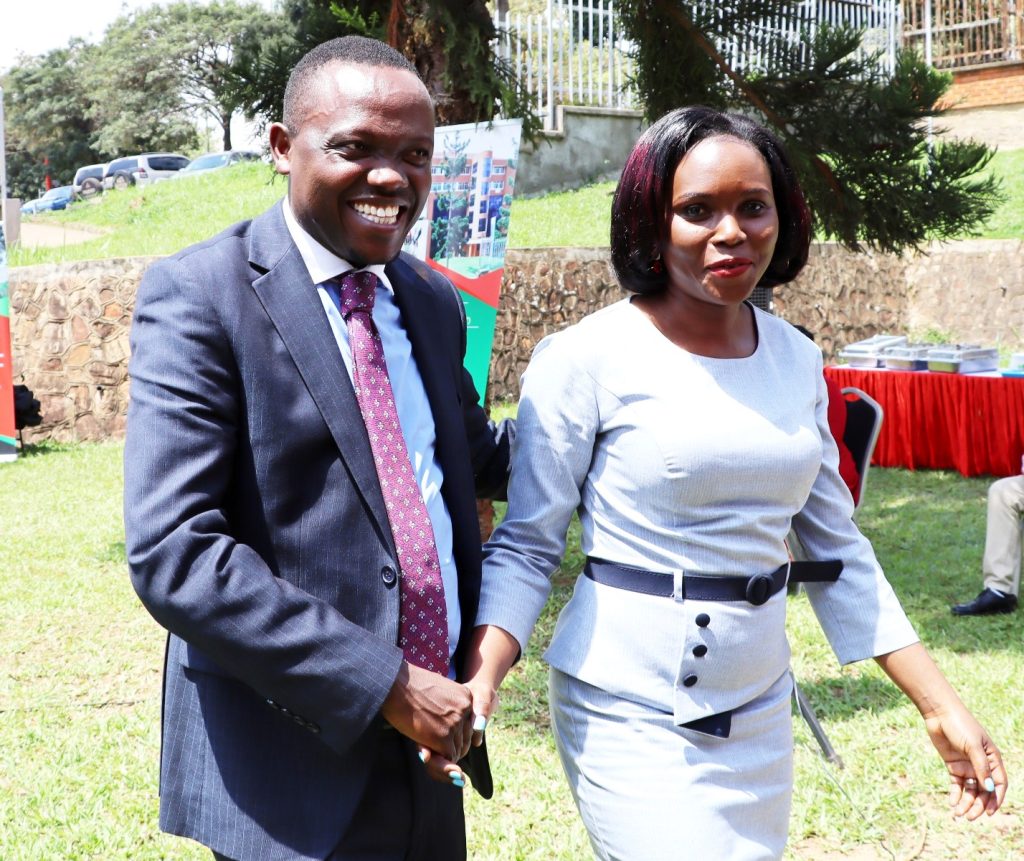 Dr. Rose Nakasi being escorted from the podium by husband Counsel Galandi Tony Kiire also Managing Director Partner Diamond Advocates.
She also noted that the innovation will be beneficial to patients who require disease diagnosis using microscopy technology, especially in areas where the disease burden and patient load is too large to be handled by the available laboratory experts.
"We believe that our funders were touched by the wider strong community impact the research comes with and we hope that this research will improve the health sector of most of the endemic countries in Africa. I therefore thank Google for seeing the good in our research and for considering Makerere University and Uganda at large for this research project," she said.
In her remarks, Dr. Aminah Zawedde expressed gladness to be back at Makerere University to launch the second phase of the Google grant funding since 2019.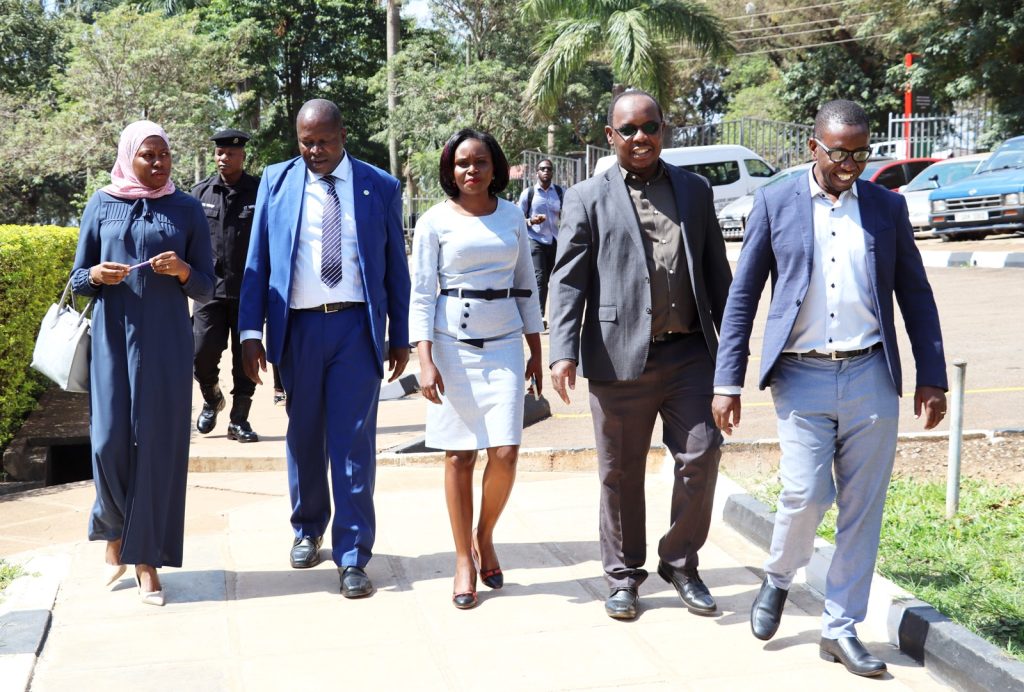 Dr. Aminah Zawedde (Left) is received upon arrival at CoCIS by 2nd Left to Right: Prof. Tonny Oyana, Dr. Rose Nakasi Kiire, Dr. Peter Nabende and Assoc. Prof. Engineer Bainomugisha.
"This makes me appreciate the goodness of God and the fact that Makerere University is doing amazing things. It is hard to tell how good home is until you leave and then make a return," she said.
Dr. Zawedde, commended Makerere University for the grounds and foundation it has given to different generations that have stood tall to support the development process of this country in different capacities. "Everyone would like to support research that is impactful and speaking to our problems as the community. Given the zeal that Rose Nakasi had during her studies, there is need to celebrate her," she said.
According to Dr. Aminah Zawedde, in August 2023, MoICT & NG launched the National Digital Transformational Road Map, a collaborative effort from all partners in Uganda that guides the country on what to focus on in the next five years when creating an enabling environment geared towards digital transformation. The Road Map is hinged on the Uganda Vision 2040 of transforming Uganda into a modern and prosperous country.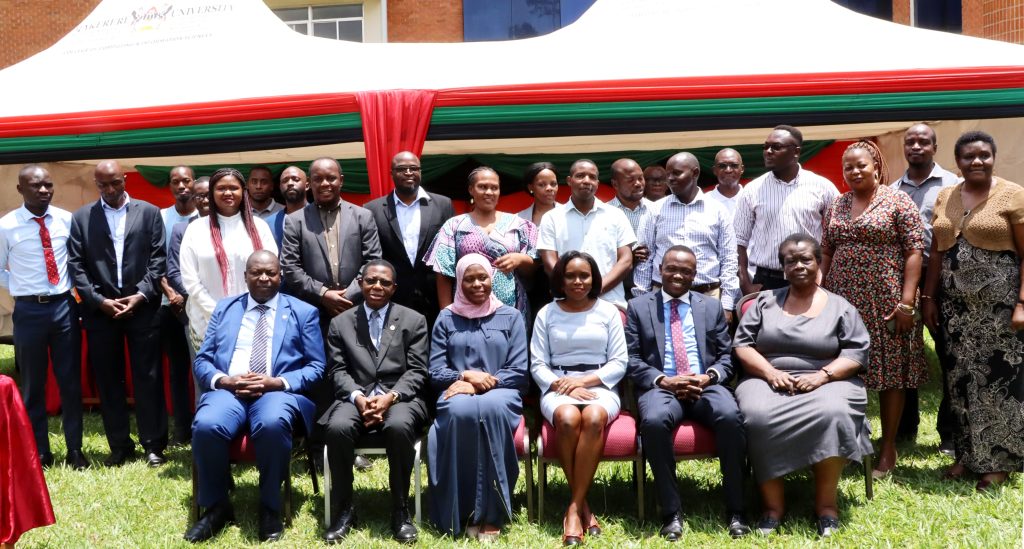 Officials posing for a group photo with the Guest of Honour-Dr. Aminah Zawedde (Seated 3rd Left) after the launch of the Ocular technology.
She also mentioned that the National Digital Transformation Roadmap premises on five pillars including; Digital Infrastructure and Connectivity, Cybersecurity, Data Protection and Privacy, Digital Skilling, Innovation and Entrepreneurship.
"The Ocular we are launching toady is an innovation and with support, we can scale it up into a commercial product that can be used not only in Uganda but across the continent," Dr. Zawedde said.
She thanked Dr. Rose Nakasi and the team for having been able to undertake an outstanding research that has been internationally recognized as worthy of a additional global funding from Google. She called upon other researchers to take their research and publication seriously and urged the University Management and Government of Uganda to continue providing support and an enabling environment for researchers to thrive.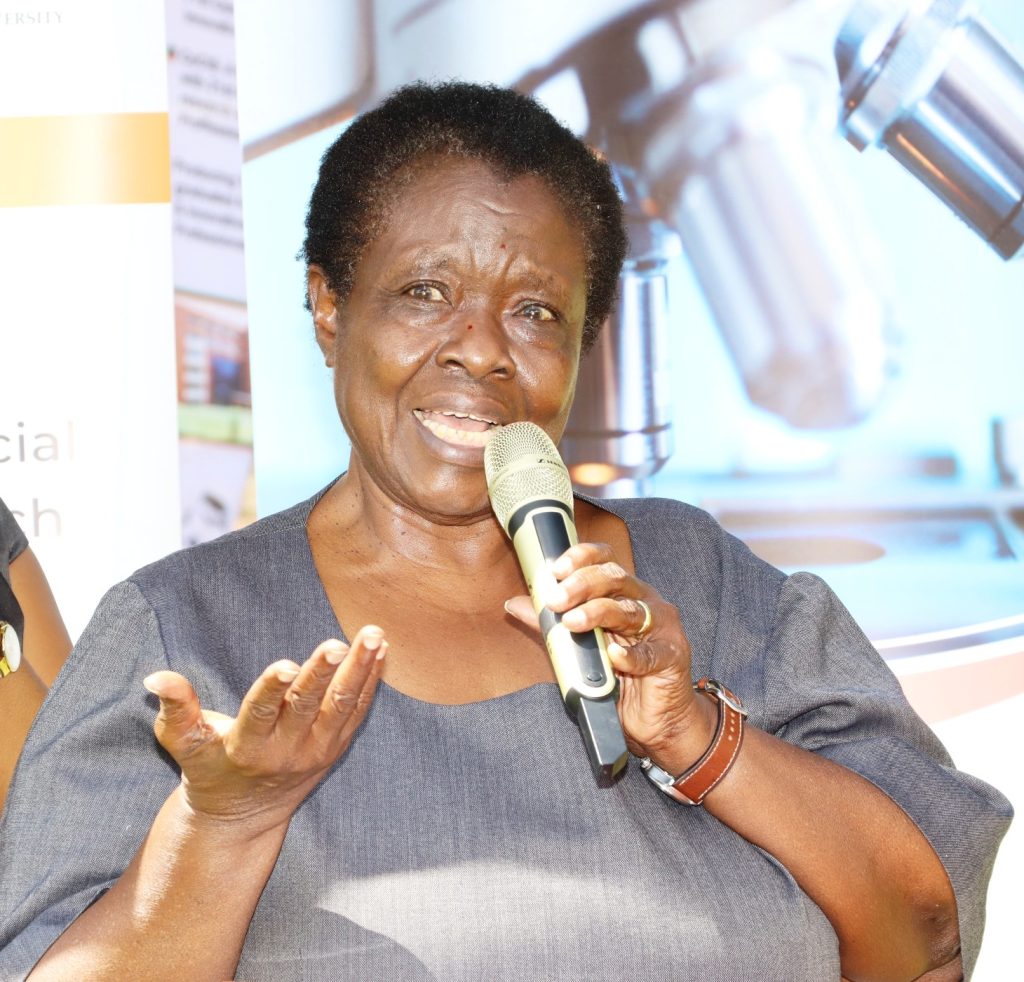 . Mrs. Elizabeth Gabona, Deputy Vice Chairperson Education Service Commission makes her remarks.
In the same spirit the Vice Chairperson of the Education Service Commission Mrs. Elizabeth Gabona, recognized the dynamics that have equally set the pace for the country to both innovate and adapt. With reference to the outstanding work from Dr. Rose Nakasi, Mrs. Gabona noted that there is no doubt that both genders (female and male) are positively contributing to technological improvement in Uganda.
Representing the Vice Chancellor, Prof. Tonny Oyana, the Principal of CoCIS thanked Google for believing and investing immensely in Makerere University research.
"This is impressive. The funds for research in key areas of human health, using low-cost technology for disease diagnosis is expected to significantly improve health outcomes in Africa. We are immensely proud of the Ocular team at Makerere AI Lab", he said.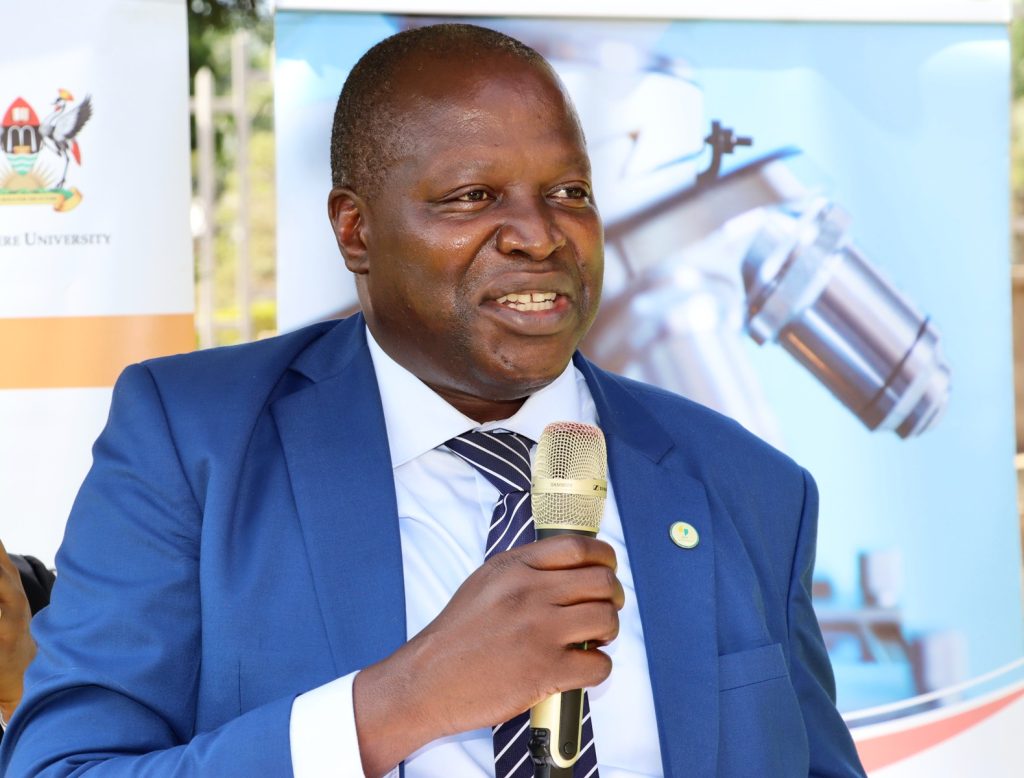 Prof. Tonny Oyana giving his welcome remarks.
According Prof. Oyana, the human brain is often constrained and the ability to enhance our intelligence is very critical for survival. It is therefore on this note that CoCIS has gone ahead to tame this ability through artificial intelligence which is also known as usage of external cognition.
"Sometimes we need to celebrate where there is a win. At Makerere University we pride in our efforts to undertake rigorous research that shapes societies through impactful community work." Said Prof. Buyinza Mukadasi, the Makerere Academic Registrar.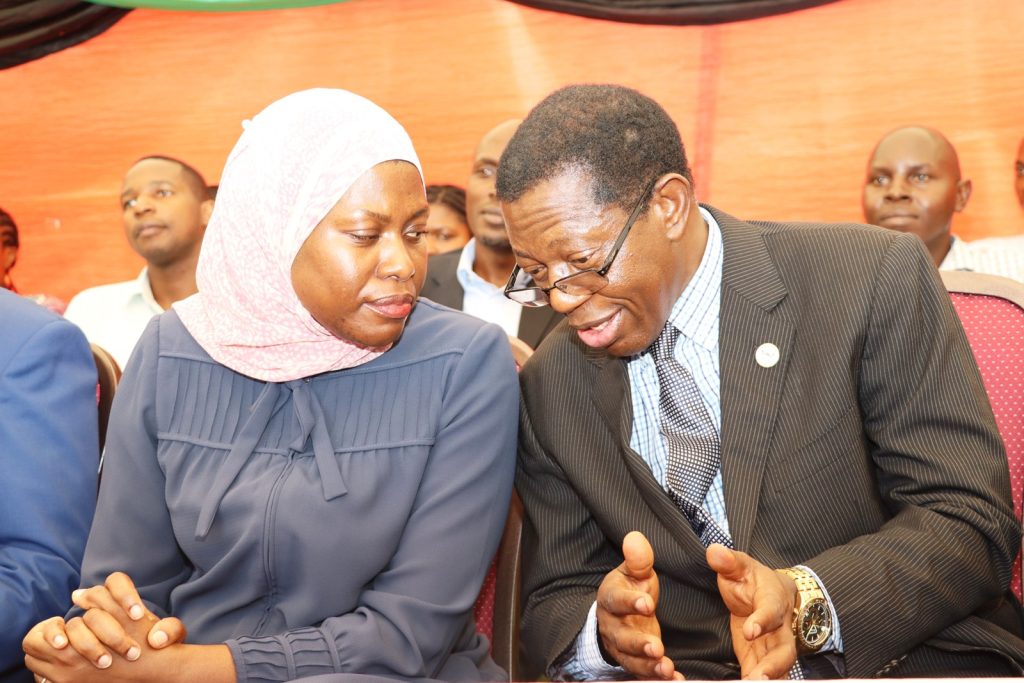 Dr. Aminah Zawedde (Left) and Prof. Buyinza Mukadasi (Right) interact before the Ocular technology launch.
Google.org's AI for the Global Goals Impact Challenge is part of Google's company-wide commitment to help accelerate progress towards the UN's Sustainable Development Goals. Makerere University is one of 15 organizations receiving support through the $25 million philanthropy challenge for projects that use artificial intelligence (AI) to accelerate progress towards these goals. Out of many submitted proposals, 15 were selected for funding. Importantly, all of the projects will be open-sourced, so that other organizations can build upon the work.
"Each of the 15 selected organizations share our vision for using AI to accelerate progress on the United Nations' Sustainable Development Goals, and each organization brings their own expertise to help move the needle," said James Manyika, Google's SVP of Research, Technology and Society. "We are inspired by the possibilities they see for how AI can be harnessed to help people solve societal problems, and are excited about the collective impact they will have over the next three years."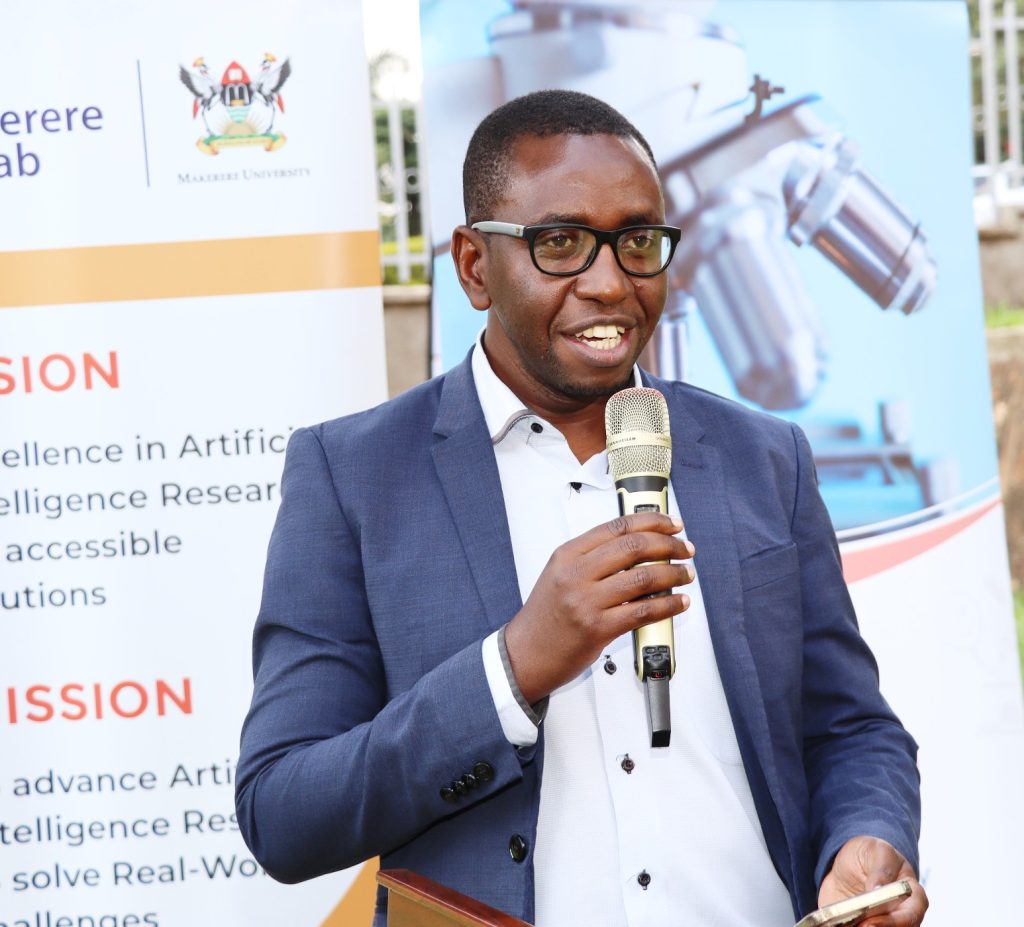 The Head, Department of Computer Science, CoCIS, Assoc. Prof. Engineer Bainomugisha addressing participants.
Highlighting the relevance of artificial intelligence, Assoc. Prof. Engineer Bainomugisha said that for the last ten years the Department of Computer Science at Makerere University decided to focus on artificial intelligence, data science and cyber security with major application areas such as health, agriculture, language, environment and finance.
"We believe that our work contributes directly to the realization of the digital transformation agenda of this country as we carefully balance the scientific rigor and society impact. We also strongly believe that technologies like AI have the huge potential to transform societies and improve efficiency," he noted.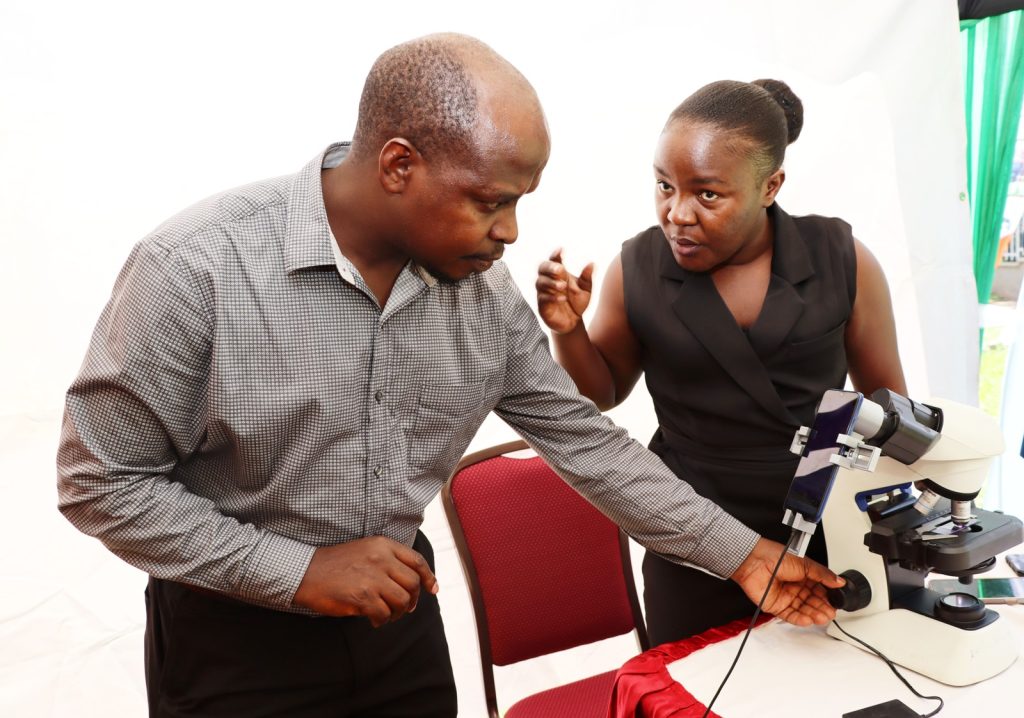 The partnering team from Makerere University School of Public Health (MakSPH) setting up the microscopeAI Automated Mobile Microscopic Diagnosis technology.
Download the Howwe Music App