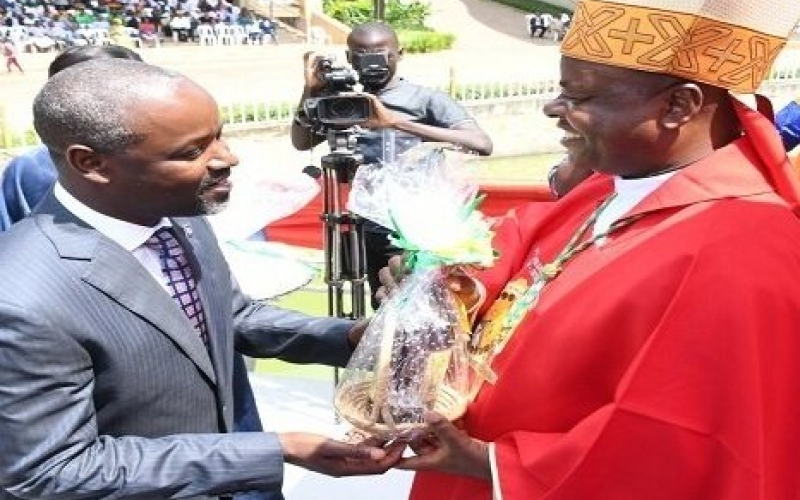 The Deputy Speaker, Thomas Tayebwa has called on the prelates under the Mbarara Ecclesiastical Province Association (MEPA) to use church structures to eradicate poverty.
Tayebwa was the chief pilgrim at the MEPA annual Pilgrimage at Namugongo Martyrs Shrine on Sunday, 12 November 2023.
He said the church has authority close to that of government and potential to use its structures to significantly affect development.
"There is a thin line between the authority of government and authority of the church that even laws of God are the same as the laws of government" said Tayebwa
He added that, "I ask that using all administrative structures of the church, let us teach people how to work because you will get to a level when there is no offertory; there is a lot of poverty among people. I urge all the bishops present here to be involved in programmes aimed at eliminating poverty, dioceses have much land let us use it such that we sustain ourselves".
MEPA is an association that brings together dioceses of Kabale, Mbarara, Fort Portal, Hoima and Kasese. This year's pilgrimage was led by Lambert Bainomugisha, the Mbarara Archbishop.
Tayebwa used the platform to preach unity, inclusiveness and courage to fight corruption.
He asked the catholic bishops present at the pilgrimage to watch over their flock in political leadership, which he said was well positioned to impact society's development.
"The errors that political leaders do can be deadly to many people. If I do not utilize funds for a certain health programme, people might die, if I don't administer justice properly, innocent people will be imprisoned. Keep advising us as you pray and watch over us the same way you watch over your priests," Tayebwa added.
Archbishop Bainomugisha reflecting on the theme of the pilgrimage, 'Growing together in faith inspired by Uganda Martyrs', called on the congregation to renew their faith embracing courage like that demonstrated by the martyrs.
"From the lives of martyrs, I draw a lesson that the obstacles we face in life cannot possibly back us down from the principles. We need unity and courage in all spheres like that demonstrated by the martyrs," Bainomugisha said.
The Chairperson of MEPA who is also the Executive Director, Uganda Development Corporation, Patrick Birungi reiterated Tayebwa's call saying the association is being utilised to drive development in addition to the spiritual growth.
"We have agreed to establish the Forum for Chief Executive Officers from Mbarara Ecclesiastical Province as a platform for interaction, coordination and building partnerships in development," Birungi said.
Download the Howwe Music App