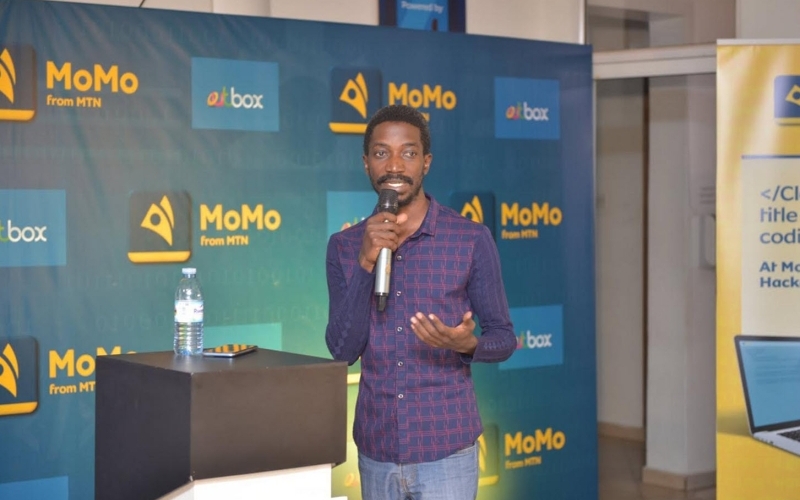 M-Pay is a web application service that will enable MTN Uganda subscribers to make bulk payments to different clients with a single click of a button.
The app emerged as the third in the 2022 MTN MoMo Hackathon and was rewarded with US$2000 to execute the solution.
Developed in June 2022 by former Makerere University computer science students, Michael Francis Kalyango and Jerald Muhwezi, its name came from the word mobile payment.
The M-Pay will be accessed with internet connectivity on devices such as smartphones, tablets, and personal computers. Once commercialized, any registered mobile money subscriber will simply get to the web portal, fund his or her wallet and thereafter be able to make multiple back-and-forth transactions.
For instance, Kalyango says when an organization has 10 employees and needs to be paid on a daily basis; the M-Pay system will enable them to pay them within a single transaction.
"We are removing the exercise of making 10 different transactions using MTN MoMo and we are replacing this with a single transaction. One simply uploads a list of beneficiaries, hit the pay button and all of them will receive their payments," he says, adding that the initiative is intended to eliminate cash in making payments.
Kalyango says the difference with the already existing platforms is in terms of integrating with other key players. He says registered organizations will have their information directly synched with their accounting systems.
"If an organization is on quick books, the synching will happen automatically with M-Pay so that the paying entity does not do the payment on one side and then do a posting on the other side on the accounting system," he narrates.
He says the duo is looking at engaging other key players so that payments can also be made to non-mobile money subscribers including refugees with no identification documents with the use cards which can be accepted at some points of sale and be able to withdraw their money.
Having emerged third in the recently concluded MTN MoMo Hackathon, Kalyango says their next step is to continue implementing the initiative and see it go live in the shortest time possible.
"The cash reward will help us run numerous engagements with various stakeholders to see that our dream comes to reality. We are even more grateful that we have a strategic partner, MTN MoMo," he says.
"This is because the process of getting access to the MoMo API is not that easy and through this avenue, we now really hope that it will really ease the process now that MTN is aware that we are running this kind of innovation."