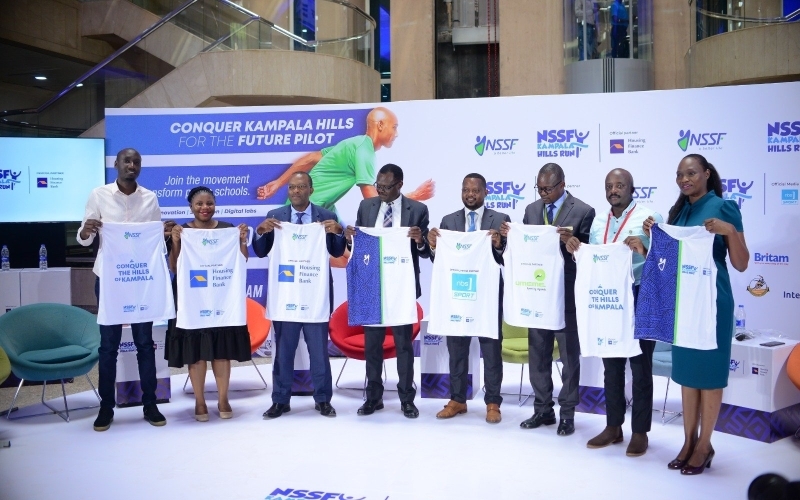 The National Social Security Fund (NSSF) has announced the 2023 edition of the NSSF Kampala Hills Run, its flagship charity run aimed at mobilising funds to improve learning conditions in public primary schools through refurbishment, sanitation, and provision of digital labs.
The NSSF Kampala Hills Run returns after a two-year hiatus, mainly due to COVID-19. It will take place on Sunday, 2nd July 2023 at Kololo Independence Grounds traversing selected hills of Kampala, covering 21km.
Patrick Ayota, NSSF's Ag. Managing Director said that the run was in line with its community interventions agenda that focuses on Health, Education, Youth, and Underprivileged groups, as provided for in the Fund's Corporate Social Responsibility Policy.
"Our interventions have contributed to solving some of the challenges our communities face, and have inspired other corporate institutions to contribute, either in partnership with the Fund or on their own. The run is our next major intervention in the education sector to raise funds to improve learning conditions in our public primary schools," Ayota said.
"This year, we hope to raise Ushs 1 billion to support our interventions in at least 10 public primary schools across the country. I, therefore, call upon all well-meaning Ugandans to join us in this noble cause as individuals, groups, or corporate institutions to inspire the next doctor, teacher, pilot, lawyer, or Minister," Ayota added.
Housing Finance Bank is the official partner for the Run, having contributed shs150m towards the cause while NBS Sport, part of Next Media Group is the official media partner, contributing shs250m in media value. The official drinking water provider is Crown Beverages Limited through its water brand Aquafina. Kampala Hospital – is a medical partner and Uganda Red Cross Society is the run's First Aid partner.
While handing over their contribution to the Fund, Medard Mwesigwa, the Bank's Chief Financial Officer, said, "We are happy to join this noble cause as it resonates well with our CSR agenda of improving the quality of education countrywide, we believe that we shall have much more impact in this area if we partnered with like-minded organisations like NSSF. As a bank, we pledge to support the cause with a Ushs150m contribution for the cause."
Announcing their partnership, Joe Kigozi, the Next Media Group Deputy CEO pledged to use their platforms to highlight the plight of public primary schools to rally more Ugandans to support the cause.
The Uganda Athletics Federation is the technical partner for the NSSF Kampala Hills Run and will map the route and undertake all necessary verification to ensure that it is safe for our runners.
Other partners for the run include Stanbic Bank, Umeme Limited, Centenary Bank, Prudential Uganda, Galaxy FM, and Clarkson Insurance Brokers Limited, Post Bank , Standard Chartered Bank, Interswitch and Britam.
Nation Media Group Uganda and Vision Group are the other media partners.
Ayota said that the funds raised in the past run editions were used to refurbish 60 classroom blocks and improved sanitation in 13 primary schools in Kampala under the Fund's partner KCCA; in Soroti, Kisoro, and Otuke districts, benefitting over 15,000 pupils every school day.
"These interventions have led to a 12% increase in student enrollment at the beneficiary schools, and a 10% reduction in dropouts in the beneficiary schools," Ayota concluded.
To register for the run, groups or organizations can register through our website https://www.nssfug.org/nssfrun or selected Housing Finance Bank branches in Kampala.
Individual participants should register and obtain a kit at Ushs 25,000 by dialing *217*277# on Airtel or MTN networks.
In the Photo: L-R Kenneth Oduka, Vision Group Marketing Manager Broadcast & Media, Irene Nakasiita- Director Communications Uganda Red Cross Society, Medard Mwesigwa- Housing Finance Bank Chief Finance Officer, Patrick Ayota- NSSF Ag Managing Director, Joe Kigozi – Deputy CEO Next Media Group, Peter Kaujju- Umeme Head of Marketing & Communications, Peter Mugarura Prudential Uganda Digital Marketing Manager and Barbra Arimi, NSSF Head of Marketing & Corporate Affairs at the launch of the NSSF Kampala Hills Run at Workers House.
Download the Howwe Music App