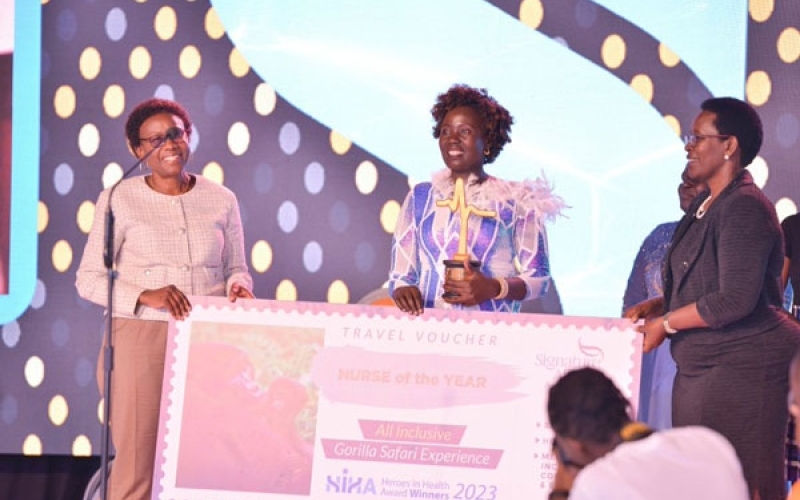 The Deputy Speaker, Thomas Tayebwa has pledged to pay for the education of Agnes Nambozo, the winner of the Nurse of the Year Award.
This will see Nambozo pursue a Bachelor's Degree in Nursing.
While presiding over the Heroes in Health Awards (HIHA) on Friday, 10 November 2023, Tayebwa said he was impressed by a video showing the selfless nurse from Buluganya Health Centre III in Sironko District who risks her life attending to pregnant women and children on the slopes of Mt. Elgon.
"When I saw the video, I was touched by the winners especially Nambozo. She has told me that she has a Diploma in Nursing; I will sponsor her to get a bachelor's degree for the good work she is doing," Tayebwa said.
According to a report from the Ministry of Health, Nambozo has been scaling a hazardous 300-metre wooden ladder to provide medical care to patients in the villages atop the Mt. Elgon ridge.
Tayebwa said such stories are not only good in motivating health workers but have potential to yield new innovations in healthcare.
"Your stories are not just narratives of success but blue prints for a future where healthcare is accessible, inclusive and responsive to the needs of every individual. The awards will motivate other health sector players and breed new innovations," he said.
The awards is an annual event organized by the Ministry of Health and its partners to recognize individuals and organizations making significant differences in the health sector.
In addition to his pledge to Nambozo, Tayebwa awarded the doctor of the year, Dr. Gladys Atto, an eye specialist in Karamoja region with Shs5 million.
He also gave Celina Alicemari, a long serving nurse at Mulago National Referral Hospital Shs5 million for winning the Midwife of the Year Award.
Alicemari has for the past 40 years served in the gynecology operating theatre where she is hailed for saving babies, mothers and also for mentoring nurses.
Tayebwa cognizant of the challenges health workers face, commended the Ministry of Health for establishing the HIHA which he said were key in enhancing job satisfaction and staff retention.
"Health workers in Uganda work amidst many challenges. They face limited medical supplies, often serve overwhelming numbers resulting into low performance and work motivation. Therefore, HIHA is a much needed platform to reward and recognize the significant contribution of health workers and other players in the health sector," Tayebwa said.
The Minister of Health, Dr. Ruth Aceng said this year's awards aimed at recognizing the relevance of partnerships in transforming the health system and workforce as witnessed in the successfully fought Covid-19 pandemic.
"By creating partnerships, we pool resources, expertise and perspectives to create comprehensive solutions beyond the boundaries of traditional health care. This is evident in our response to emergencies such as Marburg, COVID-19 and most recently Ebola virus disease," she said.
Download the Howwe Music App